dredger
Re: Dredging w/Hydraulic Excavator
---
Sorry guys , been on the road 5 days, and busy as right now,
Hey jake,
I agree very much, but for the new guys information, we also have to consider which %90 we are talking about,
For example, placer situation, and the top layer is glacial silt, ect, with no gold bearing gravels, laying on layers of gold bearing gravels,
"Why not do 90 % of the work with the excavator
Then flood the hole and use the dredge to just clean the bedrock good ",
Agreed,
Another example is in my situation where river gold bearing gravels start at the top, so I dig a hole which is full of water and I wash everything, as part of the method of dropping in the gold as I dig the hole,
So new guys please note we are talking about removing gold bearing gravels and none gold bearing materials, and either having water in the hole or not, ??. so,

My line of thought right now is about getting fresh clean water in the work hole, filtering dirty water and even recycling filtered dirty water into the work hole,
More dredging with excavator stuff, please note the first sketches, tapping into the flow, and recycling filtered clear water back into the work hole,
http://bb.bbboy.net/alaskagoldforum-viewthread?forum=2&thread=506&postnum=0
New guys Please note in the aerial pictures (two sites, USA and Australia) the flowing stream there are small rapids, this indicates the water flow is falling at a good angle, that and the fact if you dig a hole out of stream in the gravels it will fill with some or allot of water, my point being you can tap into clean filtered water moving through the gravel bed, ok it is dirty when it is dug, but quickly clears,
Trench.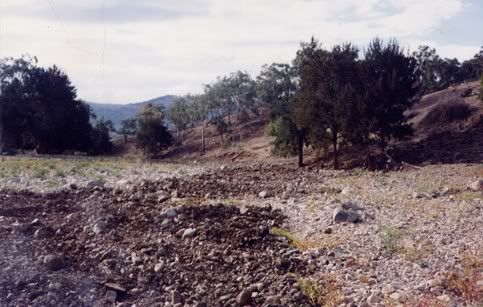 I cut this trench as quick as I could just to get clean water from the flow on the other side of the river, I also observed that soon more water was filtering with the high side wall of the trench then was coming from the river flow, which was enough to have clear dredging water, please note digging the hole and trenching results in dirty water for a short term, then the mud settles, 3-6" deep, so if you are a new guy and never actually dredged before, you will quickly learn to keep the water clear, you suck up the mud layer before disturbing it, it is that easy ,

Filtering dredge tailings water is in my experience is a little tricky, for the new guy with no experience, some good tips coming asap,