AceHand
Finally tried Dan's sluice
---
Finally got to the hills and tried out Dan't sluice. I know, there isn't much gold but that's common for around here. This is a long ways from a scientific test. You all know the variables that surely affected the run.
First pic is the set-up. Raw creekbed material into my just-made 1/4" apron screen. Shovelfull at a time. Tried not to overfeed, but still ran fairly fast. Funnelled all material from Dan't right into a Gold King w/ miners moss. Results were similar after 2 runs, about 2 or 3 hours long, and gold was mixed together for the pics.
2nd pic is combined gold for Dan's.
3rd pic is combined gold for the back-up sluice.
4th is that apron screen.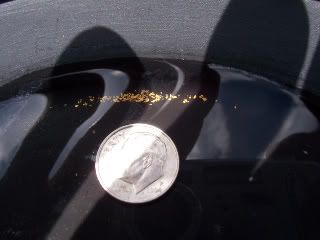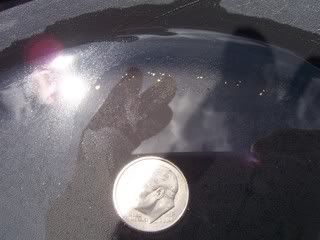 I thought it did well considering, the creek influences much of my sluice set-up, and the skill level of the operator(lol). 3 of us on the trip used double sluice set-ups. I like that approach. Since I can't control the variables like I can with the recirculator at home, no sluice is gonna get it all in the field. I ain't gonna spend half the day gettin the sluice set just right then feed slowly. 1 guy probably got a little more gold than me. He uses a flare screen that's similar to mine. That apron screen's a time and backsaver. Legs on each side hold it an inch or so above the apron so there's no radical surging of the water.
Good Luck,
Tom