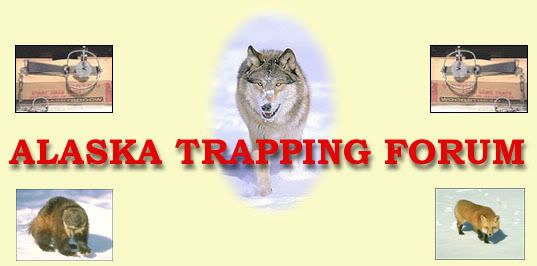 Trapping Stories

---
Alaska Gold Forum :: Alaska Trapping Forum :: Re: trapping partner :: Add Reply
Unsubscribe From Newsletter
---
people online in the last 1 minutes - 0 members, 0 anon and 0 guests. (Most ever was 44 at 17:01:08 Tue Nov 20 2012)

Leland

Re: trapping partner

---

I figure it never hurts to ask? I will be headed up there in a couple years..it would be an honor to learn from a seasoned trapper. Everything I have read and watched tells me ultimately to find a mentor. Also knowing some locals that trap will hopefully keep me from stepping on someone's toes?? I hear people get pretty upset about territory.
Jim_Alaska

Re: trapping partner

---

Leland, that post was made over a year ago. Jerry may not even check the forum any more
Leland

Re: trapping partner

---

U ever find someone in alaska to trap with??
jerry_grubb

Re: trapping partner

---

hi my name is jerry i live in the lower 48 i trap pretty hard i caugh 250 yotes and over 500 coons and i make sets pretty close i have caught 3 yotes withen 10 yards of each other in thesame season.Also am looking for a trapping partner in alaska im honest trust worhty and have alot of traps im 42 and always wanted to trap alaska i would be a asset to anybody that want to expand their trap line i have 600 plus traps ready to go please email me at grubb2619@comcast.com if interested thanks would love to talk
chickenminer

Re: Sets too close together

---

Where to place sets really depends on the activity you have.
In some places ( like here) fox generally won't go near a marten set. So placing a set for fox close to a marten set may not work.
In other places fox don't seem to mind and in fact will steal marten that get caught. Then I would say it's a good idea to set a few fox traps around.
You will find out the habits of your critters soon enough.

I would not bother with the peanut butter at your marten sets.
Use a good "skunky" lure like 'Gusto' to bring the marten around.
I take it you are using boxes and body grip traps?
How are you setting these up ?

Good luck!
bamundsen21

Sets too close together

---

I am new to trapping and I was wondering how close you put marten/ fox sets together on your line? I put a few fox sets within a stones throw away from a marten box but wasn't so sure that is a good idea.

Also we tried putting some rabbit in the marten box and using peanut butter near the base of the tree as an attractant. Is this just confusing them?

Thanks four the help!
Powered By BbBoard V1.4.2
© 2001-2007 BbBoy.net