Dick,
Great pics, thanks for sharing the action,
You say,
I'm not so sure slow is a bad thing when it comes to use of a ripper.
I totally agree, true words of wisdom, and am happy to hear you plan to use the loader to clear the ripped materials, meaning you won't waste time changing back to the bucket to clear ripped materials,
(OH, by the way, I just read somewhere that those types of design (powered ripper) has a tendency to break the shank at the tooth, makes sense too, )
Your excavator, appears to be a short stick or short dipper, and a short boom, which results in the optimum break out forces for digging hard packed rock with a rock bucket or straight ripping, :smile: meaning that is a great advantage to you, on the other hand the machine has the minimum digging depth, which with a little fore thought is not a problem any way,
Your choice of ripper length is optional, 36" long gives more break out force then a longer 48", but the loss would be hard to define in the field,
Dick please note, very important tip here, the three pics of rippers above, the first 2 pics show half the length shank, and the 3rd pic shows wide shank, which is welded full length of the head plate, I highly recommend the wide shank, there are many situations where wide shank is very handy when using a ripper, as a sort of curled up, grader / pusher blade to sweep cu yds of soft loose materials to one side,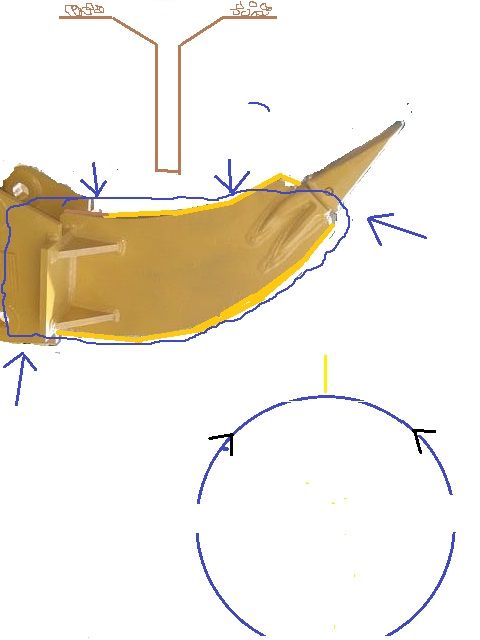 if you think about, using the slew motor and gearing to side sweep light materials aside is not a prob , we use the bucket to side sweep materials and levelling, Most of us can side sweep a large rock out of the way, most operators can and do, and from a plant mechanics point of view, is very unlikely to break a slew ring gear of slew motor drive gear, drive motor, control valve bank relief spring, gear or piston pump, hardly any extra wear if you keep the line of thought, " gently but firmly ",
So a scenario could be and I refer to your last pic with directions, and I would like to borrow your machine and your new ripper, i move the machine back above where you indicate you will start work , ( to the far right of pic and in the gully),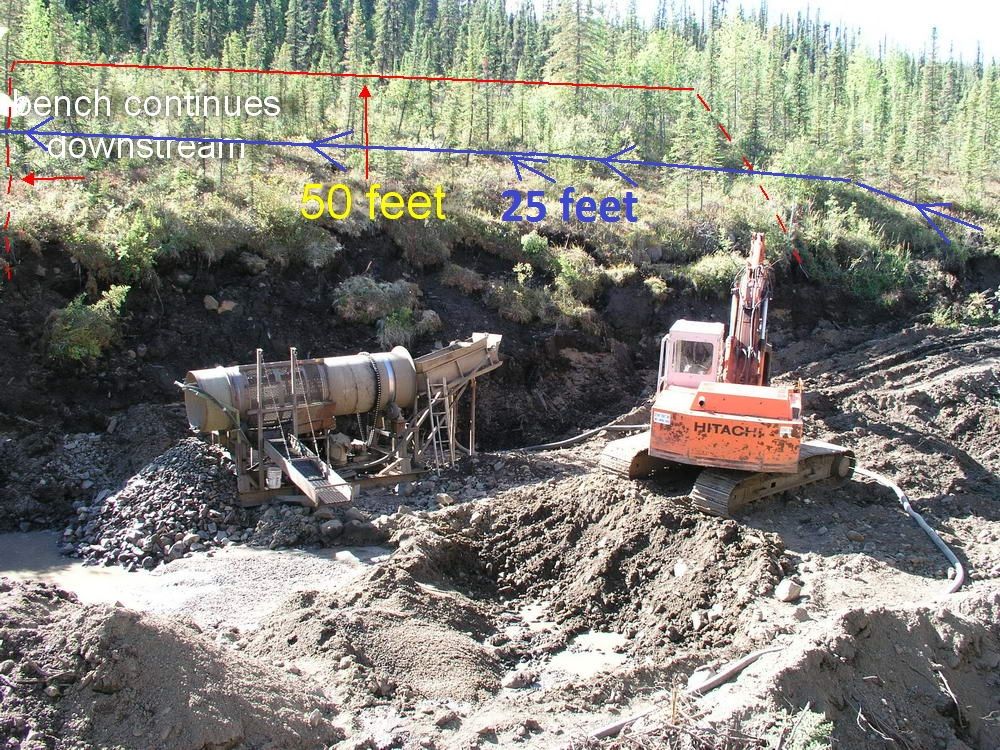 I would drop the ripper out of the bucket, and slip the bucket off somewhere safe and hitch the ripper, and move and get up close the banks, set the throttle to just over half, with the ripper I would rip most of the surface veg layer a foot either side of the excavator track width, I would expect being a frozen lumpy surface, it might be a little bumpy, then I would fold up the riper and side sweep the loose materials / veg aside, from left to right, clearing a patch and the beginning of the road, once top layer is swiped aside I would expect a greasy frozen mess surface, which I would scrap deep groves say 4" deep, disturbing the slimy surface, hard as a rock, then I would again fold the ripper under, and side slid larger rocks or broken chucks of ice and muck, to each side, and finally spread the remaining crushed ice and muck smoothly and level, once the first section is ready, maybe 15' in length up the bank, I would reach up higher with the ripper, sink it in, and pull, lift and walk the machine onto the prepared pad, or first section of the road, and then keep clearing sections in the same method , I would also back track over previous completed and levelled sections to pack the crushed ice and muck and leave deep grouser imprints in the road, these should freeze up again, and provide good traction at a later date, or to bring the machine back down, about 25 feet of road length up the hill, I would start ripping deeper on the right side and turn the road to the left and up downstream, ripping enough materials to sweep across, to level the road, and once parallel and heading back up the river, ( left of pic), I would add a few degrees incline back into the hill on the road surface, By this time I think you would be surprised at how quick the road was made, how when frozen back again will provide excellent traction for a long frozen time, perhaps a firm base to rip from, all done pretty quick, just takes practice, and because there was no time wasted changing back to the bucket, then back to the ripper,
LC and wide grouses, or track plates, excellent for alluvial gravels, and mud, sands, my observation here is the wide tracks float higher over the gravels and do not get or let that much fine grit back on to and in the track chain pins, and grind them up, please note dozer tracks are thinner, and tend to dig deep in the soft gravels, encouraging gravels to fall on to the inside of the track, and continue to ride there ??.
Also in considering your slippery situation I am relieved to see you have the full width thumb, hyd too, ouch, I have worked in deep soft mud, so we used nice solid thick logs, to give a work platform, once I used a machine that was fitted with a thumb, and it was just so easy to move the logs around as you worked, got allot more work done not having to fiddle around, so it occurs to me that in freezing slippy conditions a good thick log or logs may help, ??.
Dick for the benefit of the new guys, I would like to post some bits and suggestions on excavators, and a pic of a ripped excavation, and my some suggestions, here is the pic,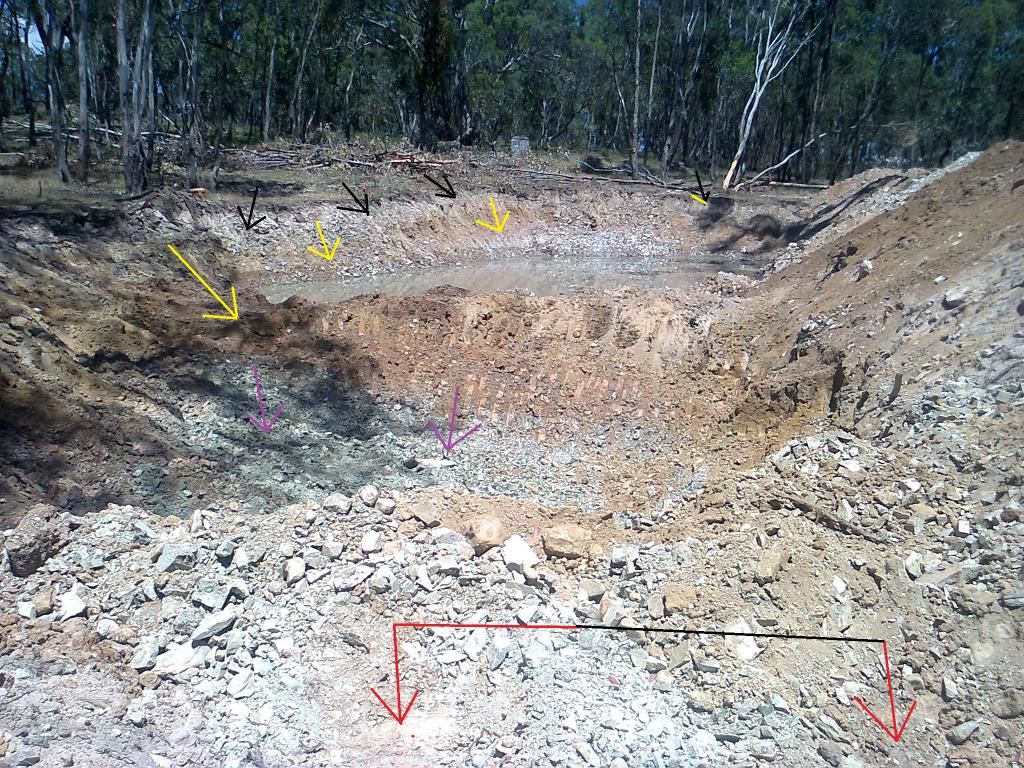 Phill.
Testing.
[1 edits; Last edit by dredger at 08:39:37 Thu Mar 14 2013]