Here's for diggit. This is the upper end of the spiral riffle of a Neffco bowl. If you look closely, you can see the tip of the riffle hooks back in. This looks like an extruded rubber/plastic strip that is bonded to the inside of the bowl. I think the standard size is 24" diameter. RPM is 125 and they use 125 GPM. 3-4 years ago, these were $3,500 from Larry Neff. I'm not sure they make them anymore, but I see used ones for sale occasionally.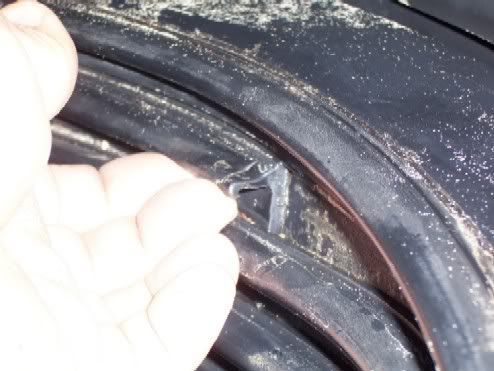 Here's his website. I don't think it has changed in the last several years. If you look at the pictures in the "business plan" link, you can see his sampling rig on a semi-trailer with several pictures of his bowls.
http://www.neffcomining.com/default.html
Larry sent me a video of his operation on the Green river in Utah, which was a number of years ago, now. Behind his bowls, he had sluices with expanded metal riffles, many feet long. I always wondered if his bowls missed some size or shape of gold and the sluices would catch that, or if the sluices were belt and suspenders for when there was an upset condition in the bowls, causing them to lose gold.
Peluk recently posted these pics of a Neffco bowl ("Neff bowl" is the term they use in Nome).
http://cid-b6081a0ee7c44bee.skydrive.live.com/self.aspx/digginit/PhotoName%20
|55|6
These guys are off-shore dredgers and will cherry-pick on shore when the diggin's are good or the weather is too bad for dredging. At one point, they were using their bowl to process the classified undersize from their 12" dredge in real-time, i.e., as the dredge was in operation. They had "film sizer" slots in the bottom of their dredge flare, and what went thru went right to the bowl. I'm not sure if they do that anymore, or not.
I know Zooka has reported on his use of a Neffco bowl before he turned from miner-to-lawyer. Any body else have first hand experience?