Hi Bob,
Here a doodle from the Gold Miners Book that may help. I drew it from many hundreds of field observations on Carboniferous and Triassic sediments in England, plus some rather tricky experiments on the intertidal silts of Morecambe Bay (where you have to run for your life when the tide rushes in and its not a good idea to be studying quicksand at the time!)...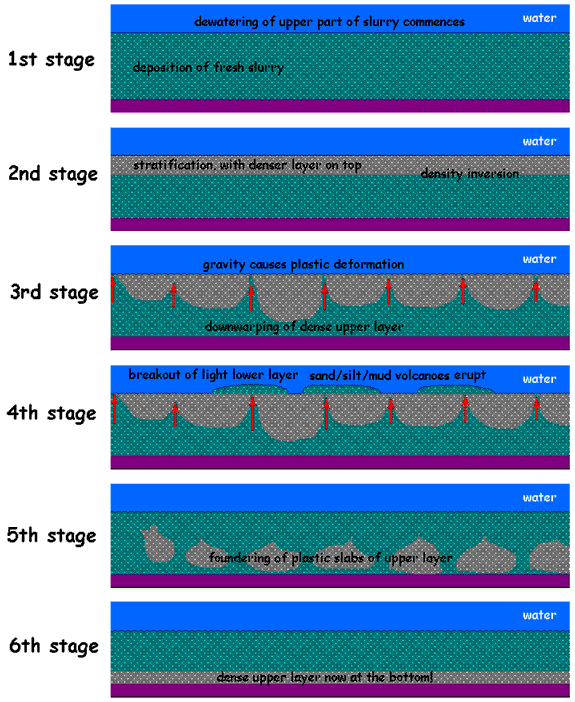 The process often goes to completion, creating 'reverse grading' which is actually very common. However the process also often 'gets stuck' due to stiffness (viscosity) of the sediment inhibiting futher movement.
Here are my notes...
Expulsion of water content
Sediment dewatering
Once a layer of sediment has accumulated by particles settling, it may seem the settling is over. Not so! The layer often continues to settle further – a complex topic for research.
Final settling is achieved by a combination of expulsion of water and closer packing of the particles, both gravity-driven. These may seem to be "much the same thing" and indeed often occur at the same time. But the expulsion of water changes the semi-formed layer of settled sediment from being a virtual fluid to a semi-solid or plastic. With dewatering come many changes - viscosity (stiffness) increases, overall density increases, particle contact increases, and compaction takes place. Many are interdependent - the more dewatering, the more settling and therefore the more dewatering. The reduced water content stiffens resistance to reverting to a suspension.
Dewatering can affect the final settling and trapping of gold particles. How is this so? Dewatering and compaction are faster and more complete in the upper part of the settled sediment. So a uniform layer becomes internally stratified into a fluid-rich upper layer tending towards a semi-solid crust, and a lower layer that still retains much of the original fluid. As the 'dewatering front' progresses downwards, it is liable to stop! Why? The upper layer by dewatering faster has become rather impermeable or highly viscous - hardly surprising if the settled sediment has a wide mix of particle shapes and sizes and a high silt or clay content.
With dewatering halted and a stratified 2-layer created, a new set of forces can apply, often rather suddenly - even dramatically. The lower fluid-rich layer erupts up through the upper more dewatered layer. The mechanism for this is clear, as the dewatered upper layer is now RELATIVELY DENSE AND STIFF, whereas the lower layer by retaining much of the original fluid content also retains the original lower density and more moderate viscosity.
By this means, settled sediment is prone to stratify itself into a DENSE layer on top and a LIGHT layer beneath, resulting in density inversion. Being denser, the upper layer is prone to founder by plastic deformation with inelegantly but aptly termed 'bum structures' that balloon downwards while the lighter lower layer is pushed up by pressure differences to erupt.
The phenomenon is seen on a shore where fresh muddy/silty sand has been left by a receding tide. It can also be seen on a jig screen or sluice bed. On some shores, the process is dramatic and life-threatening if the density inversion destabilises the sediment into a dangerous quicksand. An erupting sand/silt/mud funnel may be a few millimetres across or big enough to be a 'sand volcano' or 'mud volcano'. If the upper layer has dried and is crusty, then it may be breached by a dyke of erupting material.
If the process is gentle and steady, then gold particles, by virtue of high density, settle further down and so are at less risk of loss by scouring. Conversely fine quartz and clay minerals are liable to be carried upwards by plumes of rising slurry.
If the process is vigorous or spasmodic, then a surge of dewatering may suddenly carry upwards even dense particles of gold, and particularly fine gold.
If the upper layer dewaters and compacts, this impedes recovery of freshly-settled particles of gold. Being unable to sink down to safety, they rest on the hard-packed surface of the settled sediment and some will be lost by scouring, turbulence, surges in flow etc.
Measuring dewatering of settled sediment
The author has been unable to discover any published methods of measuring the dewatering of settled sediment in the context of gravitational recovery of gold particles.
[1 edits; Last edit by Steppegold at 17:51:53 Sun Jan 2 2011]