Here are chunks of rough Lapis Lazuli...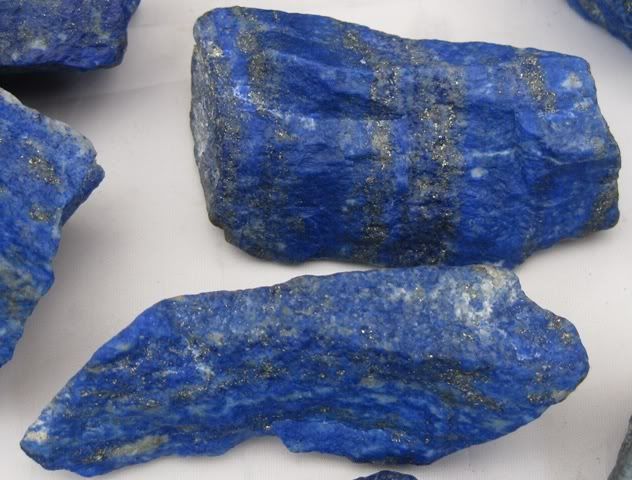 .
Lapis Lazuli is soft enough to be carved and polished fairly easily, but hard enough not to scratch too easily.
Anyone who wants to be put in direct touch with Afghan suppliers please PM me (I'm just a messenger boy, not a middle man).
To explain a bit (I had to learn this too!)...
...LAPIS LAZULI is a ROCK consisting mostly of the mineral LAZURITE (blue) in association with PYRITE (golden) and often with calcite (white). If you crush and powder Lapis lazuli rock then the end product is ULTRAMARINE, a blue pigment used by painters (and forgers - Ed).
LAPIS LAZULI forms by really deep metamorphism of dolomites followed by skarn mineralisation. A subduction zone would do nicely.
LAZURITE (a blue felspathoid mineral) should not be confused with LAZULITE ( a blue phosphate mineral) or AZURITE (a blue copper mineral).
Here are lots of lapis lazuli!
This piece shows a lot of calcite (white).
Here is some technical info for LAZURITE from
www.galleries.com/minerals/silicate/lazurite/lazurite.htm
Color: brilliant blue with violet or greenish tints.
Luster: dull to greasy.
Transparency: Crystals are translucent to opaque.
Crystal System: Isometric; bar 4 3/m
Crystal Habits: Dodecahedral crystals have been found, usually massive as a rock (lapis lazuli) forming mineral.
Cleavage: poor, in six directions, but rarely seen.
Fracture: uneven
Hardness: 5 - 5.5
Specific Gravity: 2.3 - 2.4 (somewhat below average)
Streak: bright blue.
Other Characteristics: Index of refraction is 1.5.
Associated Minerals: calcite, some pyroxenes and most diagnostic pyrite.
Notable Occurrences: Kokcha River valley, Afghanistan; Ovalle, Cordillera, Chile; near Lake Baikal, Russia; Mt. Vesuvius, Italy; Cascade Canyon, San Bernardino Mountains and Ontario Peak, California and in the Sawatch Mountains, Colorado, USA.
Best Field Indicators: violet-blue color, pyrite association (unlike sodalite), locality and specific gravity.