OK well let's see what happened - hey and remember this is PARTICLE PHYSICS, like Newton and his apples and now Steppe and his nuts (yeh true

- Ed).
Less than 5 seconds of rock n roll and shake it all about...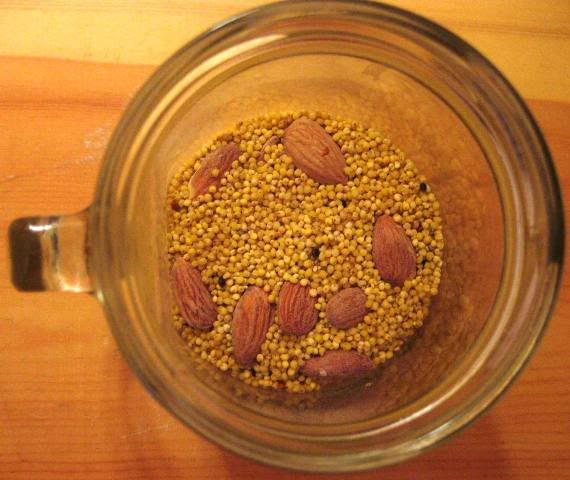 Baub is the winner! And Joe I thought almonds contained cyanide, dunno about arsenic.
Anyway, t'aint now 2 do with:
NOT density (assuming all nuts have the same-ish density)
NOT settling velocity (no free-fall with crowded nuts, except on Wall Street)
NOT buoyancy (true, all the nuts probably have the same-ish buoyancy, and that's crucial perhaps - but that alone would not allow the big nuts to rise up.
I think Baub is a Particle Physicist in disguise - exactly the right answer, its all about wiggly thingies.
(Er, very interesting for nuts, but where is the gold?? Ed). Yeah gold right, gotta stay focussed.
Using Baub's wiggly thingies model for Particle Physics, better known as the Brazil Nut effect, then it means that BIG STONES rise to the surface if surrounded by sand etc and if energy is added (shake, rattle etc). The contrary effort is by earthworms, who as Charles Darwin noted, spend much of their subterranean lives accidentally undermining surface stones that are therefore in due course swallowed up by Ma Earth.
(Er, so? Ed). Ah so, quite a lot of so and so:
1 - A shaking screen ain't just energising the small particles to fall through the screen. The Brazil Nut Effect predicts that the shaking of the screen helps to lift the bigger stones off the screen and so contributes to the big stones being flung off.
2 - A shaking table ain't just catching fine gold by means of gold being denser than the other particles. The Brazil Nut effect helps to LIFT the largest sand and silt particles clear of the table surface. It also follows that unless the film of black sand is as thin as possible (ie thin film separator) there is a risk of the largest gold particles turning themselves into Brazil Nuts so gaining lift and wobbling unsteadily across the table to freedom.
3 - A dryblower ain't just throwing off rocks by brute force, it also depends on a carpet of fines being with the rocks and so the energy of shaking and blowing with the Brazil Nut effect LIFTS the BIG STONES and so they are easily shaken off the end with the tails.
4 - a jig don't just do jigging as we are all told, it also is a Brazil Nut separator. This means that the Brazil Nut Effect enables the fine gold and fine black sand to LIFT slightly larger quartz (and of course rocks) off the jig screen while the gold and black sand fall through into the hutch.
(Steppe, but these are almonds not Brazil Nuts and those are millet seeds not small nuts at all - Ed). Hey be reasonable, this is Outer Mongolia and the only nuts that grow here are Pine Nuts and these are too oily, too tiny, and way too expensive. Actually I think almonds +millet are better for testing, as Brazil Nuts are a bit oily and too big, Walnuts are too brain-dead looking (seriously ugly) and all the Peanuts in town are roasted and salted.
So, is the Brazil Nut effect just a load of nuts, or can we make use of it when panning, sluicing, tabling, jigging... What do you think???
:confused:
Steppe