Back in the Land of the Free (Mongolia that is...), I've been trying to find a REAL FAST SHORT CUT TO PUTTING A MAP IN 3-D.
The dream was to see if while drinking a cup of coffee to put a geological map or a contour map or whatever map into a 3-D landscape.
The problem for me (and me too - Ed) was that the "proper way" to do this is rather involved.
I wanted to come up with a way that don't involve geeks, boffins, fizzycysts or NASA scientists, and without having to punch into my PC any software, funny codes, or even any numbers. Oh yeah and no latitude or longitude or funny grids either.
Eventually I solved it. Its not perfect, but it took ONE CUP OF COFFEE and no trickery.
And if I can do it, so can you guys and gals.
Here is the usual 3-D view in Google Earth of Bamiyan (nice peaceful place)....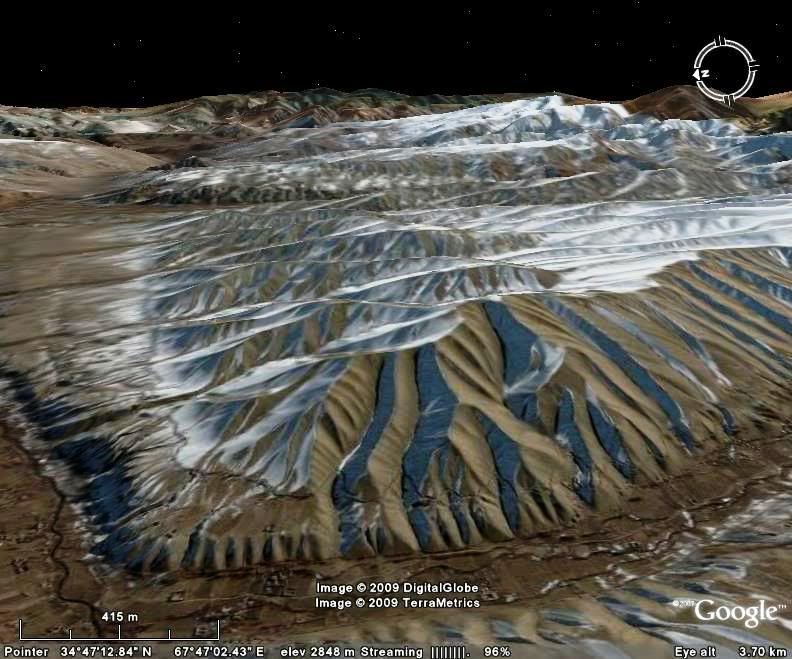 Here it is moments later with a Russian 1:50000 topographic map locked onto it and also in 3-D
Its not a perfect fit, but its good enough for "the car" and for "pottering about" and hey I like it!
(Er How did you do it? - Ed) Ah let's have a little tease of a quiz for all our assorted Wizards. Let's see if Geo_JIm, Kringle, Zooka... ...and all the other mappers can do it.
To enter the competition, just solve "how to do it". In the end all you have to do is do it WITHOUT software, lat, long, altitude, projection and such-like.
Competition ends on Christmas Day!
Steppe