I still have your concentrates stored on the shelf trick
Mike and Michelle Spain had sent me concentrates from their claims in the Willow District on grubstake gulch.
Frank Morrison brought over concentrates from Big Eldorado Fairbanks District.
When we met I was looking at Flume Ck concentrates
off the Steese hwy.
Plus my stuff on Ottertail Ck.
Demar Ck.
Oconner ck.
and Fox ck.
It really takes time to clean these samples to ready them for a microscope.
We did have a mishap this summer when after sipping a few too many brewskis we accidentally mixed Flume Ck. gold with Ottertail gold.
Looking at the mixed gold with a microscope, most of the gold could be visibly separated into two piles . Flume gold has alot of square impressions or molds in the gold due to the gold growing along side of pyrites and scheelite cubes.
Also Flume gold has a hint of orange hue on it probably due to a hint of copper within the alloy.
On a different creek,
Big Eldorado finer gold is cemented in or on a rust/limonite gaunge. So for Frank's smaller gold recovery he had to devise a crusher to free the gold . In this case the limonite gave the gold buoancy and mobility so it allows the fines to bound over the riffles. ..hence a crusher was added.
Now a week ago Larry DeGraaf (my partner on Vixen) brought in 2 oz. of his gold that he got as a cut for selling his claim (FB086) to the miner and for monies that the miner bought from Larry.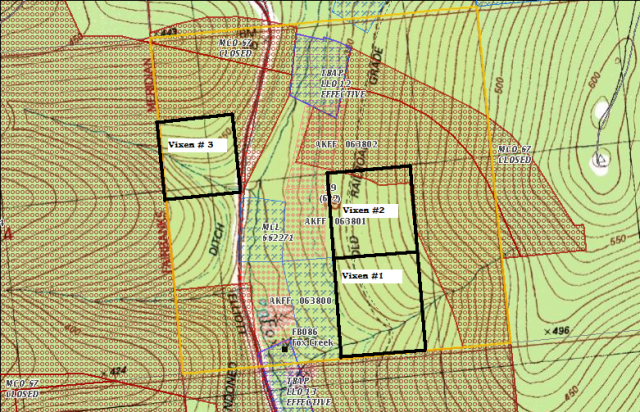 Larry previously owned the block where it says FB086 in the picture above.
Well, You know that fine gold is a pain in the but# to clean up so there were alot of extra heavy minerals in with his fine gold .So we separated the heavies (black sand ) from the finer gold cause I need to study the mineral associations and gold comparison at that mine location. The Vixen claims are on a bench above Fox Creek .
Comparing the two locations, we have similar gold
on the finer scale and the black sands are similar but his sands are loaded with pyrite . The is no pyrite in my Vixen samples yet.
So looking at a dirty ounce of fine gold placer nuggets from the 5 creeks.
Flume Ck dirty ounce
: cube molds in gold , white scheelite
polution in with finer gold . Gold is tinting orange.
Big Eldorado dirty ounce
: finer gold conglometated on cements of limonite rust. No scheelite. Stibnite
Fox Ck. Fb086 dirty ounce
: Two types of gold
type one bigger nuggets coming from up stream associated with pyrite. Some of the finer gold is gravity migration gold with is higher in assay, but on the down side it is way smaller almost microscopic.
(Which is a bummer for me). low in magnetite but high in exotic type minerals. Lacking Scheelite. No garnets
Vixen bench
; microscopic "distilled gold" very golden yet small but a good show for the first prospect pit and sampling of two 5 gallon volumes of the pit at a depth of 5 ft. . Simliar concentrates to FB086 but lacking shoddy gold and course gold . Coarse gold is probably on bed rock. No garnets
Further up Fox Creek towards the head waters gold is associated with scheelite
Sugar Daddy cons. on Ottertail
. High magnetite, black sands yes but redder sands of micro garnet,
con minerals include stibnite, hematite. Other
Not all the gold on this creek is in wire form. There are migrational shods and rounded course nuggets which show gold in potential Lode of Qtz Vein.
Distilled gold is also present
Alot of my flat gold appears to be schist foliated derived meaning that it forms infoliation or in plane withing the schist....still associated with hydrothermal deposition though.
Point is the pollution in and around your gold may be used to define a lode source or back track gold to its source creek
[3 edits; Last edit by kringle_mining at 05:00:42 Mon Oct 26 2009]