Hey vortex,
mate, thanks for the good wishes, I have always admired your great stuff, I only wish you would get yourself one of these,:smile:.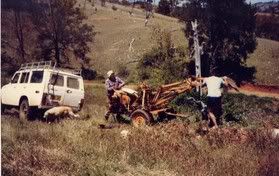 ,
Save ya back heaps,
Ps, actually i wish everyone with a dredge would get one,
Hey kaveman,
First , I have a few drawings partly done, ( but I am not happy with them,:confused: , plus i like your pics, plus I have a few things on my mind, and of course not much time, plus I will do a drawing to hopefully explain a concept in concentrating the cons previously mentioned,
I have read today's great posts,
The Grayling are safe in Deadwood. DEC and EPA are happy with how I do things.
I agree with pitchak, 1990 ----, I found the Authorities did not have any problem if the work is carry out " out of the river flow ", which has " no "effect on living things in the river, fish/ micro bacteria /fungi ect,
"I'm expecting Dredger to post some info on filters for the dikes",
Ok, just had an idea on showing /hopefully explaining points of interest ,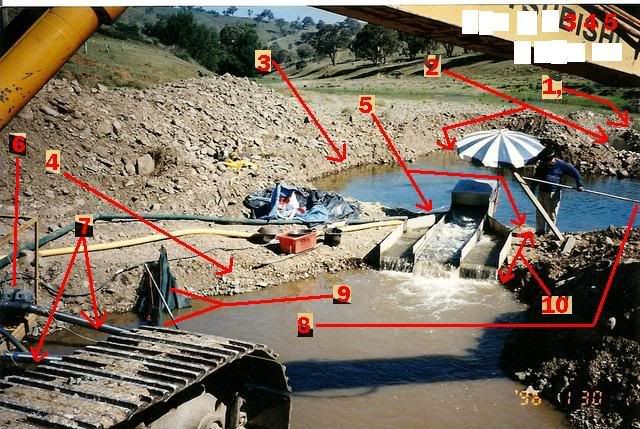 1. is the clean water inlet to the hole, I usually start the inlet trench about 6' from the flowing river, then I dig the work hole and tailing's trench ect , then I will build a rock wall " dam "by hand and lay canvas strip to stop most water flow, this backs up and quickly water starts to flow into the inlet trench, I can quickly adjust the water flow into the work hole,
2. is the flowing water entering the hole so as to cause a "swirling action in the hole",
3. is the normal dredging water height,
4. is the normal tailing's dam water height , which also means the tail of the sluices is about 2-3" under water level,
( judging by the shadow it is after lunch and I still had to adjust the flow gate in the river dam, ).and looking at the sluice water height I guess the pumps are warming up , and I am taking the pic), If at any time like every 2-3 days the tailing's dam water level was getting "clogged up " i would idle the dredge , and move the excavator, and "sweep the insides of the tailing's dam/ filter walls, NOT INSIDE THE TRENCH, JUST THE WALLS ABOVE GRAVEL LEVEL, ( couple of feet deep in water,dam walls about 3' high, because all the filtering is done " through the walls" ,
5. is both sides of the sluice header box which are usually over flowing or dribbling water from the work hole into the tailing's dam,
6, is one of 2 Honda 13"s
7, is 2 of the 2 , 4' long stainless foot valves,
8. is opps, the direct of the
outlet of the work hole, ( not really much water exits the hole when the dredge in full run mode, basically the water river water enters the trench, along the trench, and up the nozzle, and that is super clear water,
9. is a green shade cloth to divert floating grass ect off the foot valve area, ( works very well , the dirty water has no real wear characteristics, )
10. is where the work hole dribbles , if it starts to over flow I either adjust the gate in the river dam, or place rocks and strips of canvas and raise the water in the work hole,and stop any over flow, ( the old guy was complaining about his boots getting muddy, )
Please note, it was my intention, fact is , it is my intention to dredge the the tailing's or silt trench next, ( cause I only got half the gold on that bend that time ),
Ok another pic, back asap, dredger,