Geowizard,
Fair question got Fair answer, thanks.
1. Freedom of choice: It isn't a matter of opinion. Your opinion or my opinion is not important. A placer miner is a business man. The doctrine of "free enterprise" dictates that the MINER should make that decision based on his business model.
"Free enterprise" is fine, but brings with it an obligation to follow rather a lot of rules in order that the free market and society can function. Being a MINER does not bring with it any additional freedoms.
"The miner has the responsibility for success or failure of his operation."
Great in theory. Unfortunately if the mining operation fails and leaves a big mess, who will clean up the mess?
If the mining operation succeeds in commercial terms and leaves a big mess, who will clean up the mess?
Should the miner be free to choose mining methods that are highly likely to create a big mess, should as mercury or large static wash-plants?
2. Regulation should not dictate methods: YOU cannot regulate general equipment types to be used in mining.
Quite right, it is up to the regulators to regulate.
The regulators are duty bound to seek opinions from stakeholders, so I put pen to paper and wrote a book that they may find useful. You might care to do the same.
3. The answer comes from a "calculation":
You recommend an Excel spreadsheet in the book. Excellent idea! This concept deserves understanding by all businessmen.
Marvelous to know you agree on this.
:smile:
Two chapters of the book are devoted to promoting EXCEL as BAT for placer gold mining:
Chapter #12 - Gold Resource and Reserve
Chapter #13 - Placer Mine Financial Plans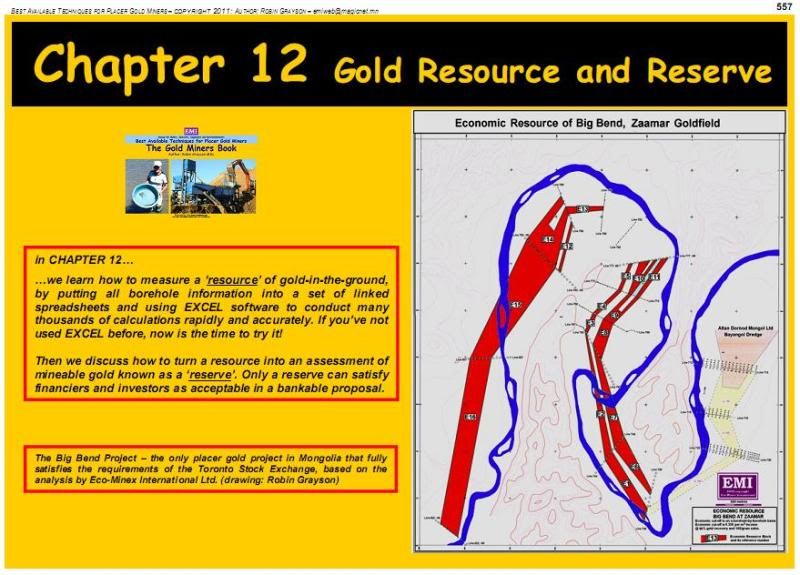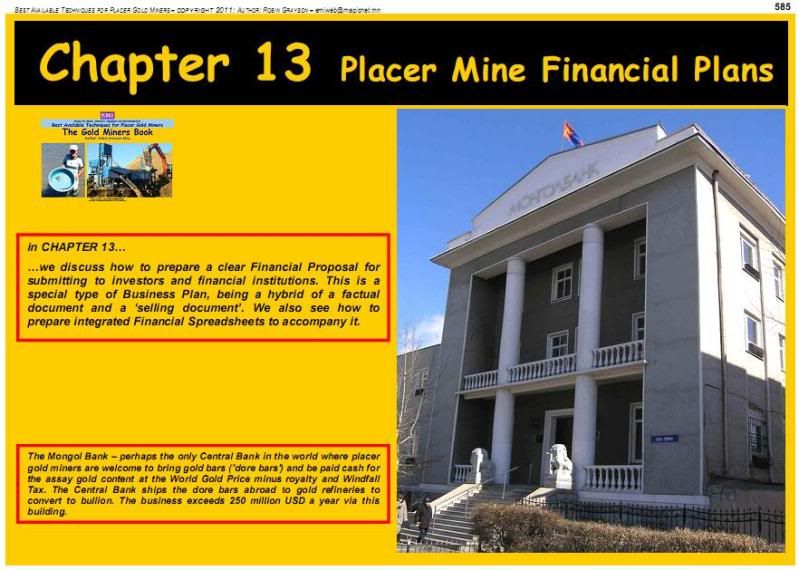 4. It's the only option: Many placer mining operations have limited access to water. The wash plant must be near the water. The gold may be on a bench. Many productive alluvial gravels in Alaska are not in the stream. Trucking is the only alternative.
BAT is simply the "Best Available Techniques". Obviously it is site-specific as you know.
You raise a valid point, but its overblown. I have visited a lot of placer gold mines in Mongolia that have no surface water at all in summer, and are far away from any surface stream. The common solution is to drill for groundwater, often after a bit of geophysics. Yes its an upfront cost, and yes it cost some dollars, but the operational savings are stunningly good. If after a couple of boreholes not enough groundwater is found, then some miners insert catch-dams across the dry streams in summer, in order to catch melt-water from melting snow in spring. The trick, as you know, is to minimise water usage by the wash-plant and to minimise water losses by percolation from water storage ponds (clay liners for example). There are some bizarre methods here too, such as stripping down to the permafrost and tapping the water released from it melting, and of course to trigger naled ice shields and doing the same. You can have a fully mobile trailer mounted jig with 100% recycling of water that therefore only needs a tiny amount of top up water. No need for a stream at all. Trucking is therefore NOT the ONLY alternative, and for hard-nosed commercial reasons should only be considered as a very last resort.
5. I don't need a rule book written by you or a room full of legislators that has determined from half way around the world what I need or don't need.
I quite agree. What Alaska needs is a rule book written by Alaskan regulators after careful detailed consultation with the local placer mining community such as the Small Scale Miners Committee of the Alaska Mining Association.
6a. Mining is an independent activity.
Mining is "an independent activity", er independent of what? Society? Regulation? News to me.
6b. Miners don't like having someone else dictate how they mine, where they mine and when.
True, but in that regard miners are no different from the general population of butchers, bakers and candlestick makers in not liking having someone else dictate how they make things, where they make things and when.
Its nice to know we agree on 2 Chapters of the BAT Book.
Steppe
[1 edits; Last edit by Steppegold at 06:35:51 Fri Mar 11 2011]