Hey Dan,
I wanted to congrats you for your efforts, sounds like a good deal.with a bit of luck we will hear some more reports soon, just gotta wait till everyone settles in , Aye, ?. but i am looking forward to it ,
Also I wanted to suggest to the new guys ( and anyone with any sluice, ) something which is actually the best / cheapest tool for setting up ya sluice,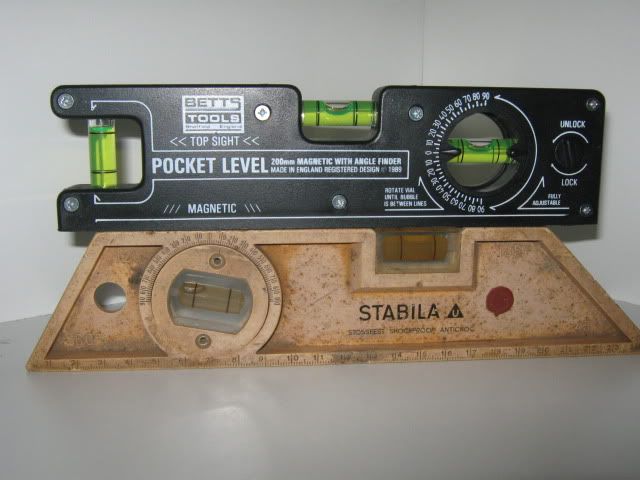 The Stabila, I have owned forever, ( as you can see, ), cost me 12 bucks, although I did not need another, I brought a new one for a spare.
I would suggest from my experience (you can see the wear and tear, ) that stabila saved me so much time in setting up and tuning sluices,
I would suggest consistent accuracy could only result in the best recovery,
The pocket level is the only one easily available at the hardware, $25 , please note i have set both bubbles at horizontal, and the dial shows 2.5 degree discrepancy, :confused:.
Sorry I forgot to set the stabila, in which the dial is correct to .1degree,,
Also please note the stabila has 5 increments per 10 degrees, and and the pocket level is 2 increments per 10 degrees. harder to read, but you can always scratch you own marks, ???.
My experience was to set up my sluices very quickly ( lift them and the pump stand which also had to be level,with a excavator ) and stand back and say " perfect ", wait wait, I don't mean perfect recovery, ( I abuse the suction nozzle for perfect recovery ), i mean perfect set up, and quick too.more time dredging,very little adjustment required.
Now yous all know my secret weapon, :confused:.:smile:.
Also , " I think " if ya use a accurate level allot over a long time, you can learn a good or better sense of what is level and whats not level, by eye , I think.
Good luck all.
[1 edits; Last edit by dredger at 23:06:26 Sat Oct 24 2009]