nother excellent and very inspiring post Joe, as always,
You wrote, "Something from my "Humble Re-Training in the Manly Art of Panning" at Nome came to mind ",
I hear what you are saying there, because when I went to New Zealand , I had had between 78 to 96 or about 18 years experience panning cons from a inland Australian river, ( no Glacier /placer ) then I tried Gray Mouth river NZ , where while gold mining I could see the ice and snow covered mountains, (and Dumb struck by the Glaciers I had seen in the Plane getting there, ) and fine gold,MAMA< I did have my scope on hand ( sorry no camera, ) and had the feeling of just being overwhelmed by bulk fine / kite y gold, that was a big shock,
I was also so very surprised at the volume of kite- y flake in the Nome sample, amazed actually, so much gold being blown away, before the final concentrate,
I agree, "Next the tiny flat shapes - which were of two distinct types. One was flat but with a bit of thickness and the other was flat and extremely thin ".
Also include these from Nome sample , I think the center stone was a garnet from Nome too,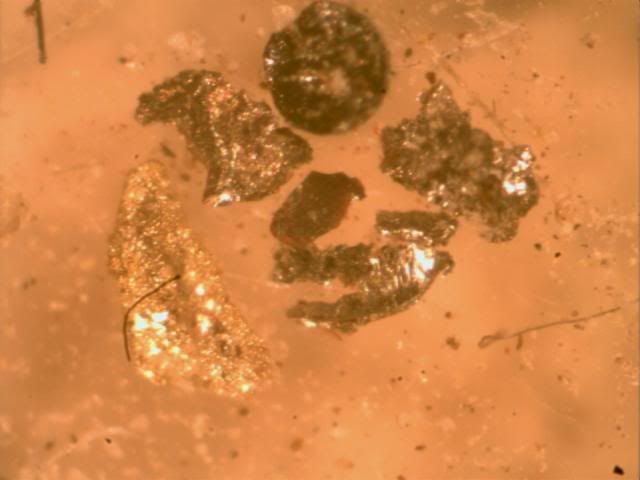 Top is PGM ball, 3 bits of mangled PGM's, and a folded thin gold, with a possible air bubble inside,right side of the gold is thin, and left side shows a more thicker side, my line of thought is these are or would be very Kite y in a gentle motion of a pan, they are only tiny bits,
Oh, Oh, ok, where you say " placing the pan on a level surface and wiggling or jerking the pan briskly, until the Gold had settled flat to the bottom of the concentrates. Then the pan was tilted up a little and keeping that exact angle, I used the water to slowly wash the lighter material (and the extremely thin Gold) away from whatever Gold that would hug the pan and stay in place ",
. Reminded me of a ??? thing i used to do with my scope, relating to what you say above, I would shake the gold done to where I was happy to start back washing the lighter sands, ok, at that point , I was wondering what the gold looked like at the upper /med / bottom levels, and what shape it was,ect, and what was keeping it up and not allowing it to settle, so on many occasions I made sure I floated all the dirty water out of the half -quarter pan sample concentrate, I again settled the gold taking ample time, , and set the pan aside on a big hot rock and let them / it dry, once dry I could place the pan under my scope, but before that I would quickly excavate a half section of the fairly packed dry cons, with a blade and small spoon, please note, the gravels are pretty stuck together and not loose, so it is easy to "scrape " the or a miniature slanted work face, with the proper light, the tiny gold is easy to see, also clearly shows everything,
Now the point or method i would like to make with my fellow scope-rs is to " quickly " work a cons face in a small gold pan, with a scope, you need to hold the blade or scraper / small thin knife, ( scalpel ), with your thumb and 2 first fingers, last two fingers are used to move the small pan around, on the other hand the last two fingers are used to assist in moving the pan, and the first two fingers and thumb are quickly turning the focus dial,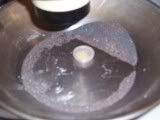 This scope method of quickly moving around and quickly focus on objects/gold 2-3 " deep miniature work face is really handy, and interesting, blar blar, hope ya try it for yourself, it will also allow you to visualize the layers of gold and gravels when you are actually shaking the gold down with water,
Please note you said , " Two or three times and the """Easier Gold""" was removed while the much harder shape (dredger's colourfully described 'Kitey Gold') was left. Some of the Kitey Gold could then be panned out - and the rest was just put aside in reserve. Too much time and frustration had to be invested in recovering that Gold to do it in the field - so, much later,"
Joe , I hear your words as a clear verification to my thoughts, the chunky and the kitey have to be separated, a clear separation before we pan or sluice using our current pans or sluices, I am working/thinking on some ideas kaveman gave me,slate table, that I might use in my planned future processing unit, first ideas appear to be able to be scaled back down to a Nome beach style box, maybe, ??. might "look " weird though, ???. a sort of a pre-classification of chunky and kitey , the kitey being processed or concentrated down in a totally different concept then pan / sluice,
Working on that back asap. dredger.