THE RICHARDSON LINEAMENT - A STRUCTURAL CONTROL FOR GOLD DEPOSITS
IN THE RICHARDSON MINING DISTRICT, INTERIOR ALASKA
By T.K. Bundtzenl and R.D. RegerlINTRODUCTION
The Richardson district, along the southern margin
of the Yukon-Tanana upland (fig. 1) has been a center
of gold mining since the discovery of deep gold placers
on Tenderfoot Creek in 1905 (Prindle, 1913; Saunders,
1965). Total known production is about 95,000 ounces
of gold alld 24,000 ounces of silver (Brooks, 1922; E.N.
Wolff, oral comm.). In 1976 the Alaska DGGS assessed
mineral resources in the Richardson district and mapped
a prominent northwest-trending photogeologic lineament
system that may control mineralization.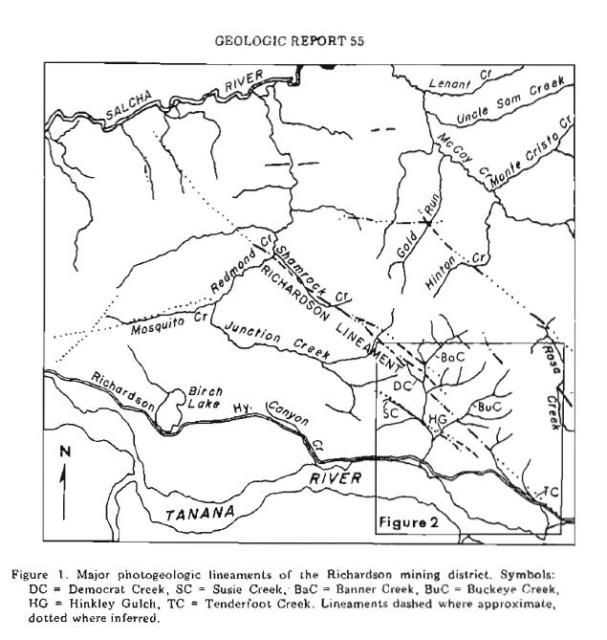 BEDROCK GEOLOGY
The bedrock of the Richardson area is composed
of metasedimentary and metaigneous rocks that have
undergone greenschist-to-amphibolite facies metamorphism
and have been intruded by Mesozoic plutons
(Foster and others, 1973). The two most common lithologies
in the area are biotite-muscovite-oligoclase-quartz
schist and muscovite-biotite-pennine-albite-quartz-actinolite
schist (unit ms in fig. 2). F.R. Weber (oral comm.)
reports sillimanite gneiss north and east of the study
area. Coarse-grained K-spar-quartz-muscovite metagranite(?)
(unit mg in fig. 2) occurs near the head of
Buckeye Creek adjacent to several outcrops of epidoteactinolite
hornfels (unit hs in fig. 2). Saunders (1965)
reported metagranitic rock in the Rosa Creek drainage.
A dark-green epidote-rich hornblende gneiss (unit hg in
fig. 2) is exposed in an open cut in Hinkley Gulch.
Hornblende from this rock has an unusually high
specific gravity ( > 3.3) and a high K20 content of
1.994 percent (table 1). The chemical composition of
the rock (table 2) and its mineralogy suggest that it was
a schist that was metasomatised and thermally metamorphosed,
perhaps during emplacement of the nearby
porphyry. Hornblende from the gneiss yields a minimum
age of 113 23.3 and 102 23.1 m.y. (table 1).
Pink- to tan-weathering sericitized porphyro-aphanitic
quartz-orthoclase porphyry (unit rp in fig. 2) is
exposed in Democrat Creek and Hinkley Gulch, was
encountered beneath Susie Creek (churn-drill boring
2 in fig. 2), and occurs in the tailings on Tenderfoot
Creek (fig. 2). Quartz and carlsbad-twinned orthoclase
' a l a s k a DGGS, College, AK 99708.
occur as large ( 1 cm) euhedral phenocrysts in an
aphanitic to fine-grained quartz-sericite groundmass, but
the feldspar is commonly altered or absent because of
weathering. The porphyry on Democrat Creek is locally
gossanized and veined with quartz, and contains disseminated
sulfide psuedomorphs. It yields a minimum
age of 86.9 + 2.6 m.y. (table I), which may date the
hydrothermal alteration and mineralization.
SURFICIAL GEOLOGY
The rounded bedrock ridges and hills are blanketed
with extensive wind-blown organic silt of variable
thickness (fig. 2). The silt has been retransported to
form valley fills that are perennially frozen and ice rich
(PCwk, 1975). The organic silt is 1 to 8 m thick in the
drainage of Banner Creek and overlies 4 to 5 m of
fluvial sand and gravel that locally contain rich placer
gold deposits.
Distinct linear features identified on aerial photographs
may represent a northwest-trending fracture
system (fig. 1). The major feature, herein termed the
Richardson lineament, extends at least 35 km from
lower Tenderfoot Creek through Democrat and Redmond
Creeks to the Salcha River. Although no exposures
of the linear were found, the Richardson lineament
appears to control the distribution of the quartzorthoclase
porphyry and the placer gold deposits.
Former production shafts, associated tailings cones, and
open-pit workings are concentrated along, downslope of,
and downstream from the Richardson lineament on
Tenderfoot, Buckeye, and Banner Creeks, in Hinkley
Gulch, and near the head of Junction Creek downstream
from the point of its beheading by Democrat Creek
(fig. 2).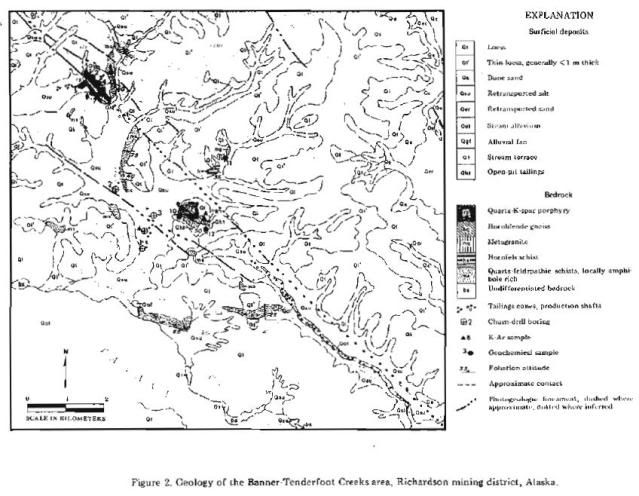 GEOCHEMICAL RESULTS
Analyses of seven chip samples of gossan-rich quartz
porphyry on Democrat Creek, show anomalies in silver,
lead, antimony, and uranium (fig. 2, table 3). Porphyry
samples from Hinkley Gulch are slightly anomalous in
lead, antimony, and uranium but not gold or silver.
Lead and silver values in the porphyry are coincident
and lead-bearing gold-silver ore occurs in the tailings
of the early drift mines on Tenderfoot Creek (Saunders,
1965
Gold fineness in pan concentrates from Hinkley
Gulch and Tenderfoot Creek averages 670 (table 4),
which is typical of the low average fineness (720) for
the Richardson district reported by Smith (1941), but
the samples are small and may not be representative.
The low gold fineness, angularity of the placer gold,
and associated base-metal mineralization led Saunders(1965) to suggest that base-metal mineralization accompanied
introduction of the gold.
Pan concentrates collected during this study are rich
in titanium minerals (table 4). The presence of cassiterite
in Hinkley Gulch and
monazite
in drill-hole
4 (fig. 2) is unique, perhaps indicating a local source in
the porphyry plutons. Saunders (19651 reported scheelite
in pan concentrates from Democrat Creek.
CONCLUSION
In the Richardson district northwest-trending lineaments
apparently control the distribution of mineralized
porphyry bodies thought to be the source of placer gold.
Exploration along the Richardson lineament northwest
of the Banner-Democrat Creeks area may locate un.
discovered placer gold and lode deposits.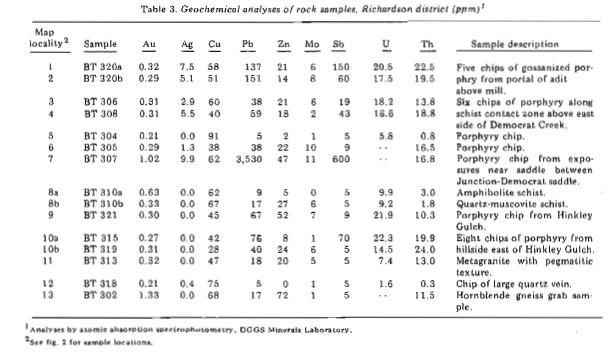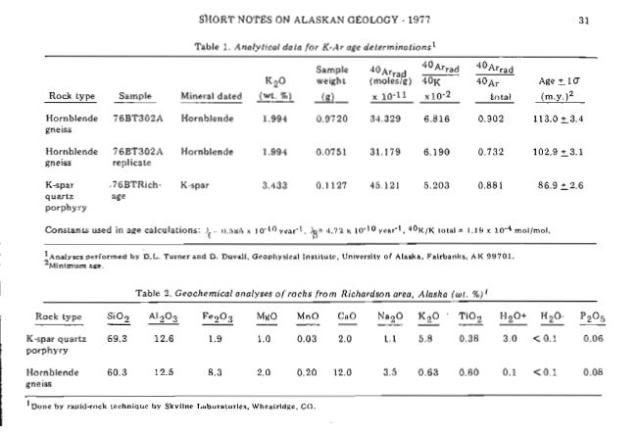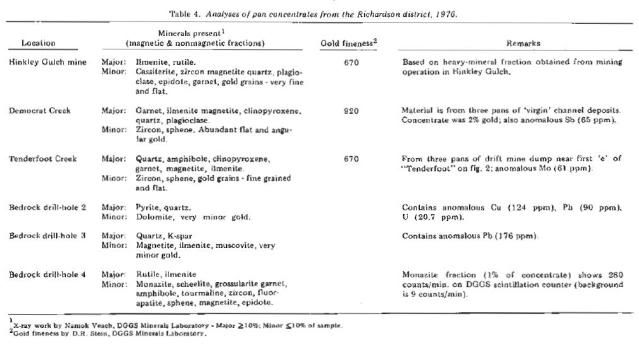 ACKNOWLEDGMENTS
Special thanks are given to Gilbert Monroe, Bruce
Erickson, Robert Lovelass, and Edward Smith for
permission to examine their mining properties. We are
also indebted to the numerous people, both cited and
uncited, in particular Gilbert Monroe, who freely gave
supporting data, and Wyatt Gilbert, who reviewed the
manuscript.
REFERENCES CITED
Brooks, A.H., 1922, The Alaska mineral industry in
1921: U.S. Geol. Survey Bull. 739A, 47 p.
Foster, H.L., Weber, F.R., Forbes, R.B., and Brabb,
E.E., 1973, Regional geology of Yukon-Tanana upland,
Alaska: Am. Assoc. Petroleum Geologists Mem.
19, p. 388-395.
T.L., 1975, Quaternary geology of Alaska: U.S.
Geol Survey Prof Paper 835, 145p.
Prindle, L.M., 1913, A geological reconnaissance of the Alaska Div. Mines and Minerals Geochem. Rept.
Fairbanks quadrangle, Alaska: U.S. Geol. Survey 3,
12 p.
Bull. 525, 220 p. Smith, P.S., 1941, Fineness of gold from Alaska placers:
Saunders, R.H., 1965, A geochemical investigation in U.S. Geol. Survey Bull. 910C, p. 147-272.
the Richardson area, Big Delta quadrangle, Alaska:
[5 edits; Last edit by kringle_mining at 22:23:42 Sat Jan 9 2010]