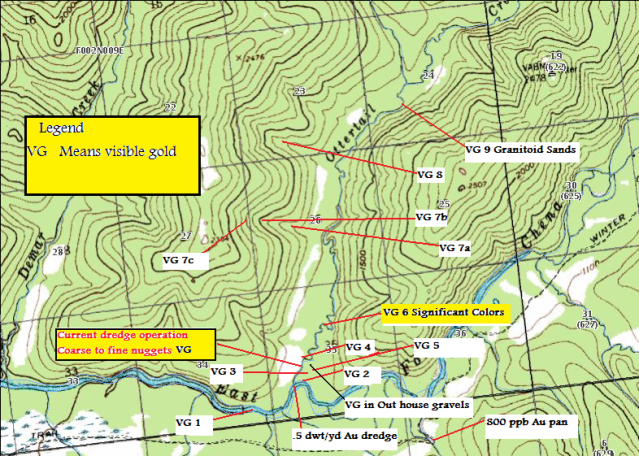 VG 1
: Ah-52 sniper sluice 1/8th panned colors
dredge location
Ottertail/Chena confluence
exposed bedrock in river bottom at this location. 3rd party dredge diver dredged approximately .5 dwt/yd
VG 2
: test pit panned several colors
800ppb pan sample
: This location is beneath a dacite dike porphyry . It was the location of the first discovery pan, excluding 3D party prospecters.
VG 3
: prospect pit dug to 8 ft colors found but not to bedrock as of yet
VG 4
: 1/16 th yd in sniper box several colors of flood gold
VG 5
: dug out house trench with backhoe bottom gravels from a pan contain several colors
Current dredge operation
: See pictures of nuggets and operation at this location
VG 6
: Sniper box 1/8 th yd of material yield about .5 dwt of gold. I need to still out in road access to this location.
VG 7 a,b,& c
This is draw 26. Sniper box sampled 1/8 yd and panned concentrates 7a and 7b for assay. I Really didn't need to send the pans in for assay due to visible gold in both pans.7c is a stream sediment sample as there was no water at this elevation (intermitten). See AlS Chemex Certifications below
VG 8 a and b
See assays certificates a.Jl01pn and b. Jl0301pn. This was a 1/8th yd processed from a sniper box
VG 9
Draw 23 see DRW23PN assay certificate
Both were 1/8th yd processed from a sniper box.
[10 edits; Last edit by kringle_mining at 02:58:53 Sun Jan 30 2011]