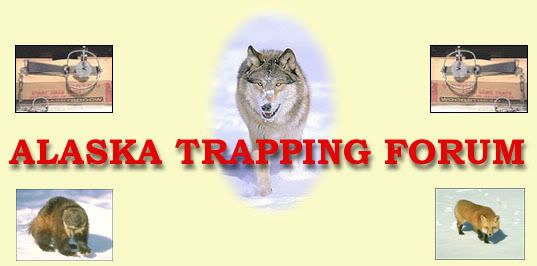 Trapping Stories

---
Alaska Gold Forum :: Alaska Trapping Forum :: Middle (East) Fork of Chena River Trap line
Unsubscribe From Newsletter
---
people online in the last 1 minutes - 0 members, 0 anon and 0 guests. (Most ever was 44 at 17:01:08 Tue Nov 20 2012)

hatcher

---

Offline




1 posts


Reply

Middle (East) Fork of Chena River Trap line

(

19:51:23 FriOct 21 2011

)

---

Greetings!

I'm a new trapper just learning the ropes this winter. I did some hiking along the middle fork of the Chena river just before moose season, and I'm interested in using that area as a trap line by making a couple of miles of snowshoe/hike/ski trail following the river. I would start around mile post 44 (third bridge) and walk in to the middle fork, go along the river a ways, and either loop back to the road or follow my trail back out. I'm hoping to try my luck mostly for martin, but would like to have some sets for fox, lynx, and wolverine as well. I saw no sign of trapping in the area while I was there, but I don't know what trap lines might already be nearby.

Does anyone know of someone that's already trapping in the area of the middle fork of the chena? I'm interested in a pretty small trap line, but don't want to step on anyone's toes if that's too close to someone's territory. Let me know if you have any info about it! thanks!

~heidi



Jim_Alaska

---

Offline




4681 posts


Admin

Reply

Re: Middle (East) Fork of Chena River Trap line

(

01:13:07 SatOct 22 2011

)

---

Hello heidi,

I trapped the middle fork for many years. I am no longer in Alaska. As of the time I left Alaska, the cat trail, as well as the river itself, was being trapped by a person who had trapped it for a very long time. He went up as far as Munson Creek. He has a cabin on Munson Creek.

When I was there I trapped from Munson creek all the way up to Touchette Creek. I also trapped all the ridges branching off of the cat trail.

Lynx are just about non-existant in the easy Fork valley. There is an occasional fox and wolverine. Marten stick mostly to the ridges, but a few are found along the cat tail and almost non along the river itself.

The last I knew, the East Fork was spoken for as far as traplines are concerned. I know someone is trapping my old lines and the trap lines up as far as Munson are being trapped by the same person who has trapped them for many years, he is a Two Rivers resident.

It doesn't sound like you would be much of a treat to the people trapping there now. You might talk to them and see if they would let you do a walking trapline.



Chace

---

Offline




18 posts


Reply

Re: Middle (East) Fork of Chena River Trap line

(

17:03:47 TueNov 1 2011

)

---

Hatcher
Years ago, the Alaska Trappers Assoc. had a set of maps that showed (registered) traplines in the interior. I say registered because they were registered with ATA but not the state. It was just a service provided to trappers to help them find areas not already being used. That was back in the 80's when I was a board member. I don't know if they still maintain those maps. Contact ATA and I'm sure they would be more than helpfull.
Chace



Total Members: 11955


Can start a new thread. (Everyone)
Can't start a new poll. (Mods & Admins)
Can add a reply. (Everyone)
Can't edit your posts.(Everyone Registered)
Register :: Log In :: Administrators

The time is now 06:02:09 Fri May 24 2019
Powered By BbBoard V1.4.2
© 2001-2007 BbBoy.net