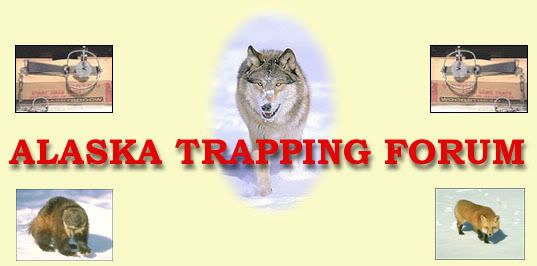 Trapping Stories

---
Alaska Gold Forum :: Alaska Trapping Forum :: hello fellow trappers
Unsubscribe From Newsletter
---
people online in the last 1 minutes - 0 members, 0 anon and 0 guests. (Most ever was 44 at 17:01:08 Tue Nov 20 2012)

sayisitrapper

---

Offline




93 posts



Reply

hello fellow trappers

(

04:02:32 ThuFeb 13 2014

)

---

hows everybodys season going, as for me its been difficult, cooled off early, animals stop moving and jays started getting caught in sets, lost a few martens to foxes and wolves. so yeah seasons been a bust I would say, only caught 4 martens and three foxes, lost out on money then making any. hopefully next season will be better and prices rise and makes it worth while. :mad:



Leland

---

Offline




5 posts


Reply

Re: hello fellow trappers

(

00:16:36 ThuSep 17 2015

)

---

Hello from oregon! Sorry to hear of ur busted season..hope the best for u folks up there this year!



Total Members: 11956


Can start a new thread. (Everyone)
Can't start a new poll. (Mods & Admins)
Can add a reply. (Everyone)
Can't edit your posts.(Everyone Registered)
Register :: Log In :: Administrators

The time is now 01:34:57 Fri Jul 19 2019
Powered By BbBoard V1.4.2
© 2001-2007 BbBoy.net