Real people are even harder to draw because everyone knows what they look like and it's easier to make mistakes. I'm gonna try to draw the wrestler Eddie Guerrero soon and I hope I can pull that off. Yeah I imagine a president would be difficult.
Ok, got two more drawings that I just drew a few days ago. I think you guys will really like these. First up is Solan.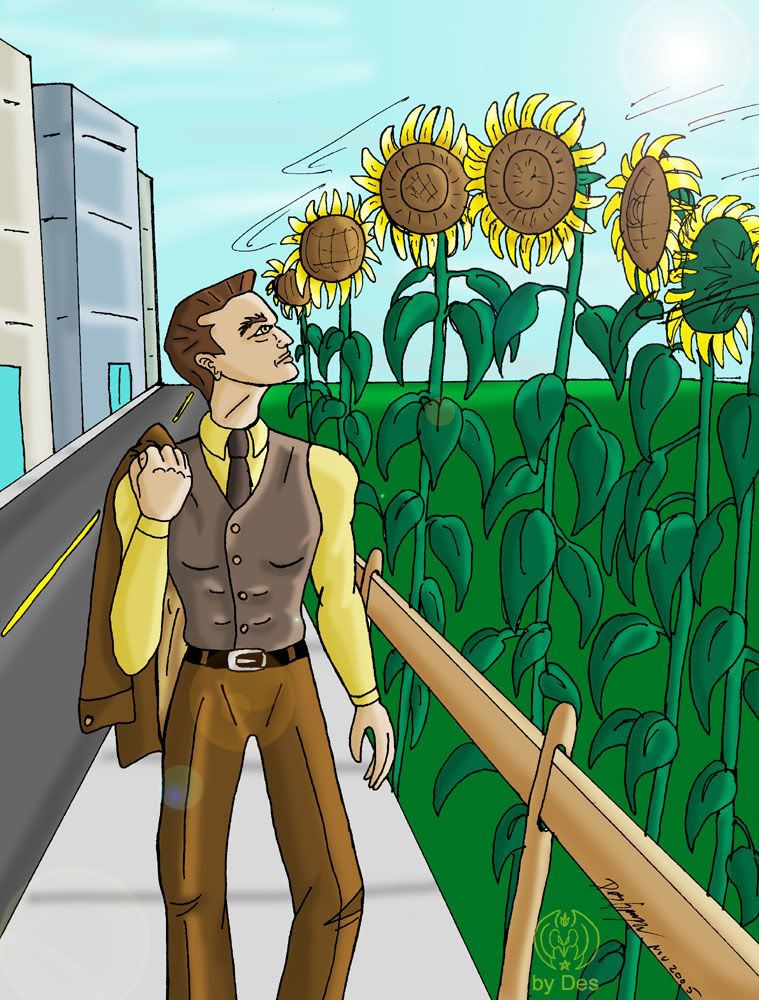 I love this drawing thoughthe sunflowers were a pain to draw and color. Solan always walks home from work everyday. He's walking past a field of sunflowers that turn and follow him as he passes by instead of following the sun that is behind them. For those that don't know sunflowers do follow the sun through the day. They start off facing east and end up facing west. Anyway, Solan is looking up at them a little concerned. I can almost hear him thinking, "Cut it out you guys. You're gonna blow my cover." Hehe.
And his true form as Sorath again.
Now this is a terrifying experience for poor Sorath. He's flying clamly through space one day and stumbles on an unseen black hole. It opens and he's just out side the event horizon and able to escape. Besides Thagirion there is nothing he fears more than black holes. Nothing not even light can escape and since he is light and of the sun it's something that could destroy him.
Squidsgirl, if you like writing you should check out some of my stories. You might like them. I have them up on my site.