But one more thing should be taken to account -- magnetic field in Drozd's solenoid makes its core move and when it hits the valve the coil's inductance slightly changes. So does the current inside the coil. It looks like this: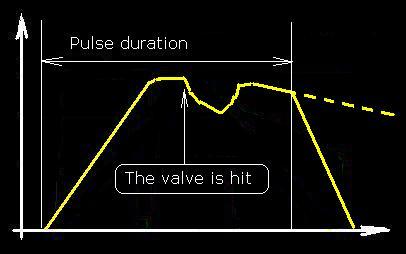 If you hold the solenoid core with your hand and don't let it move the graph will look just the same but there will be no "pit" on it. Notice that if the pulse lasts after the core hit the valve it simply wastes the battery's energy. What if we want it to strike harder? Remember, I wrote that core acceleration depends on the voltage applied? With higher voltage the current grows faster and the valve is hit harder.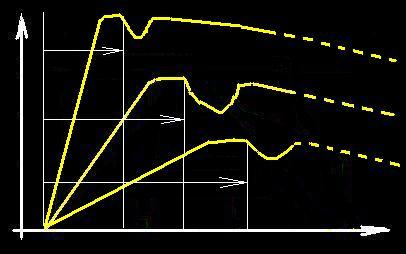 The arrows show optimal pulse duration for different voltages. Note that with higher voltages the solenoid core makes its way faster and hits the valve deeper which in turn injects larger portion of gas into the barrel. Once again: the optimal pulse width depends on the voltage of the batteries that you use.
Now, some absolute figures. I used 0.0025 Ohm current sense resistor to measure coil current. The coil resistance was found to be around 1 Ohm which yelds peak current value of about 8 Amperes in regular Drozd running at 9 Volts. The pulse duration was factory set at 6 mS.
In the new PCB at 17.1 V the peak current was approx. 16 Amperes. Plus, at higher voltages the relative voltage drop after each shot is less (see voltage graph above) which allowes for longer bursts.
In practice the muzzle velocity depends on many factors like barrel length, battery voltage, pressure, gas leakages etc. So it makes sense to increase the pulse duration step by step until the muzzle velocity stops growing. In every Drozd configuration (barrel, voltage etc) it'll be different values. If you have any questions - I'm here to help.
Yours,
Sergey Pismensky.
[1 edits; Last edit by Sergey_new_pcb at 22:46:49 Fri Feb 26 2010]