You guys are totally on the right track. You're gonna love this, or be very discouraged. Shot yesterday, Gun #2, same air, 16.6V, stock barrel. the gun shot well with the 12.5V Linear reg and OK with the 12.5V DC-DC converter with up to a 90 shot burst no air shots. Since I had the top of the gun removed for easy access to change out the reg/DC conv I could feel the barrel and nut getting very cold. After around 800 shots I wanted to change from the Linear to the DC, tried to remove the barrel, no way. Figured it was cold and the metal had contracted, so left it alone. After allowing it to warm in the sun, tried again, no way. I sh!t you not, what I screwed on the day before with my fingers, and while disassembled threaded both JimC and stock barrels through the barrel nut with ease, was completely locked. Luckily, since my gun did not have the top on it, I was able to turn my vise sideways, wrap the frame of the gun that the barrel screws in to and use the 4mm wrench with as much force as I could while holding the mag to remove the barrel.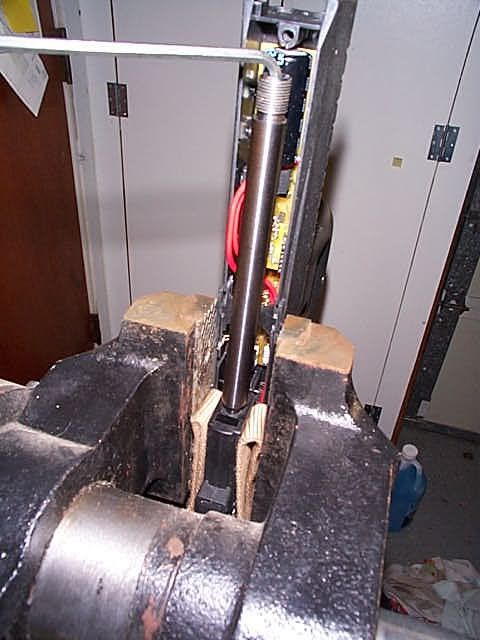 If my gun wasn't already partially disassembled, I don't think I would have been able to get it apart. I had to sit down and drink a few beers after that one
So that is how my other threads were flattened. They are get hammered from the inside. Since the stock barrel is not hardened the metal appears to stretch like being pounded by a ball been hammer against an anvil. It appears to have flattened the threads enough. Now my stock barrel won't thread and neither will the barrel nut with any combination. But the hardened barrels flatten and crumble/chip under this pounding.
So why is this happening now? I think it is a combination of things starting with the factory bb alignment. At lower pressures the metal can handle it, but as the velocity increases, t
[1 edits; Last edit by drozdandconfused at 18:06:42 Thu Dec 2 2010]