Hello everyone.
I need your opinion again.
I have a side product of one of my other projects sold in Russia -- a large digital 7-segments display and I'm thinking of some new applications for it. Here's how it looks: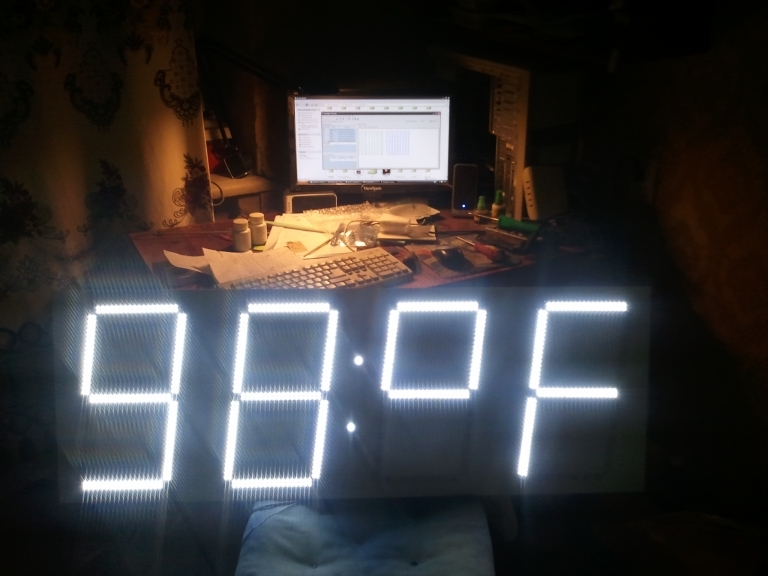 Some technical info:
Overall dimensions (W*H): 3'9" * 1'4" (114 * 41 cm)
Digit hight: 13,4" (34 cm)
Distance the numbers can be seen from: 100+ yards (over 100 m)
It's controlled over a single cable from half a mile distance. Segments color can be white, green, red or blue. There is also a separate output to control traffic light or some other equipment. Commands can be received from a PC or a specific controller.
Please suggest other possible applications for that sort of a display, including those that might seem crazy. Feel free to name applications that would require modifications in the original design like changing the number of digits, number of outputs for external modules etc. The display controller is scalable so it won't be a big problem to change digits' size. Thank you in advance.
If you have any questions but are not registered at this forum, here's my contact info:
E-mail: e-go[you-know-what]inbox[d0t]ru
Skype: sergey.pismensky
Phone: +7-90-90-500-800
Yours,
Sergey.
P.S. The next board equipped with white display is preparing for its trip to Connecticut. You can also buy one
directly from Ray
if you hate waiting.
[3 edits; Last edit by Sergey_new_pcb at 23:20:48 Sun Oct 5 2014]