Hey Nickdisk,
It's been almost a week since your last post asking if perhaps we've gone over the number of backups allowed. As I stated, to the best of my knowledge we did not exceed the number of backups allowed.
I have another question, is there any other place where we can do a backup besides the Server Side Backup. We are looking to do some changes to out board but will not do anything without having the backup available.
Once again I tried to do a Server Side Backup, there are no backups on the server-side backup page. I did the backup and got the same results, nothing!
Here's a copy of the screens that appear when I try to do the backup.
I click on the Backup. (See Figure 1) I've tried clicking on both the Server-Side Backup button under the BACKUP boxes as well as the Server Side Backup link at the bottom of the Admin Page and received the same results.
Figure 1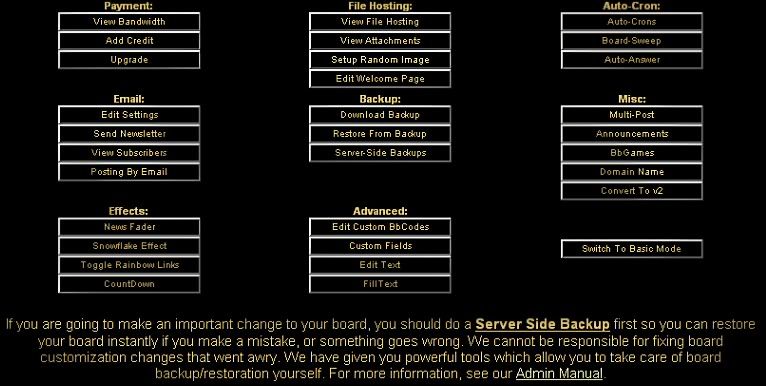 Next I open up the Server-Side backup Page, (See Figure 2) you can see that there are no backups being stored. I proceed to click on Backup Now and the backup process begins, or at least it appears that it's backing up.
Figure 2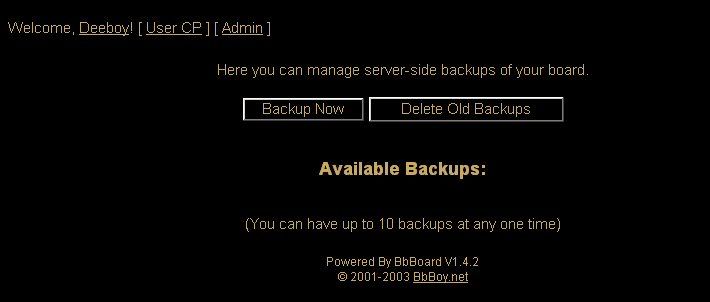 I then received a screen that tells me that everything is "backed up" and I'm being redirected. (See Figure 3)
Figure 3

Once redirected I get the following screen showing no backup. (See Figure 4)
Figure 4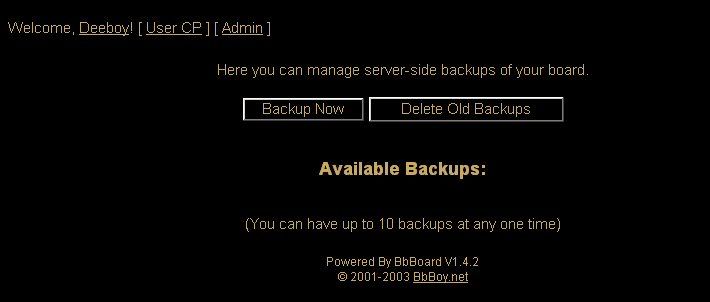 This is the best I can do to explain to BbBoy what is happening. If there is something else I can do please let me know. Up until now we've been extremely happy with bboard and all the great things we could do but we're becoming increasingly frustrated with the lack of resolution to our backup problem. Any assistance in correcting this matter is deeply appreciated.
Thanks Again,
Dee