I have even had them chew up the plastic gas tank on the dredge, gas and all!
In Alaska, I was too far from home and didn't want to haul all the stuff back and forth by boat. I used "Bear Boards" to protect everything. :doublethumbsup:
I know the next question:
What Are Bear Boards?
Well if you scroll down you will have your answer.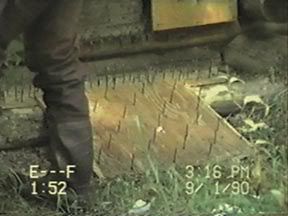 These were boards I laid down in front of my cabin door, to keep the bears from tearing the door down.
The boards I used on my dredging equipment were larger. I had to completely encircle the equipment with them