Here is what we decided to do with this:
With Roger's suggestion in mind, we will create 46 bags of gold panning ore, each to contain a pennyweight or more of gold, including at least one gold nugget. The remaining nuggets will be disbursed throughout the bags. This will place the gold-weight value of each bag at around $50 or more at today's gold price. Since some of the nuggets are bigger and more valuable than others, some of the bags will be worth more than others. Surprise, surprise!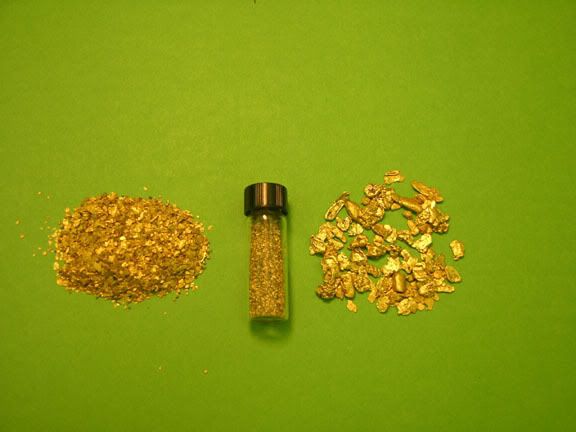 While we are not selling raffle tickets, we have been authorized by Roger to submit a drawing ticket for each $10 in contributions that we receive from those of you who support our legal fund ($100 would create 10 tickets, etc.). Our girls in the office will print your tickets as we receive contributions. The prize drawing will take place during our weekly potluck at the Happy Camp Lions Hall on the evening of 7 June.
Contributions can be directed to New 49'er Legal Fund, P.O. Box 47, Happy Camp, CA 96039. You can also call in a debit or credit card contribution to our office at (530) 493-2012. Or you can make a contribution through the "Make A Donation" link further up on this page.
Thanks for whatever you can do to help!