Cross posted from last night....
Kev arrived home about 7 o'clock..He has not long left as the little girl was shattered and their dog wanted feeding..Knew it was going to be a short visit but there is plenty of time to catch up while he is here....I saw for myself that he looked okay,maybe a bit tired but otherwise fine...
Dom was in the kitchen when they arrived and he heard his dads voice and nearly broke his neck trying to get to him..Would have made a lovely pic but i was shaking that much i only got a blur..Sorry, but i did manage to get a couple once i had stopped blubbing.
We had put our Lucy and Tyler in the conservatory cos we knew they had Keira with them....Kev went to meet tyler and was made up with him and couldn't believe how well behaved they both were. Have brought them back in now and Tyler is going mad as he knows another dog has been here.Will introduce them tomorrow. Couldn't get to speak to him properly as Dominic wouldn't shut up
Dominic getting a kiss from his little sister.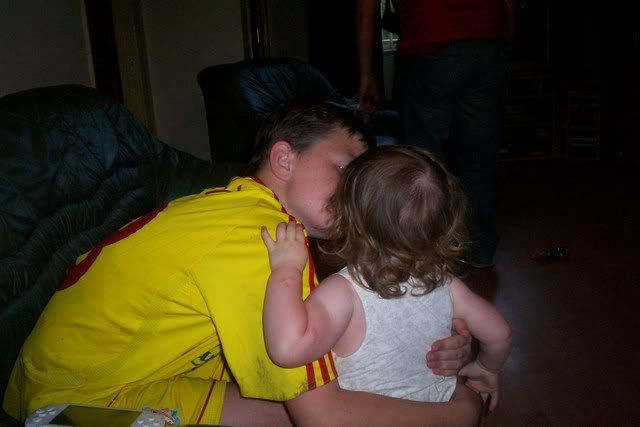 Dominic with his Dad and sister..
..
Dominic woke up feeling Ill today...Think he wanted a day off with his Dad....I sent him to school aren't i mean..
Dominic will be 11 in September...