**** This is just my opinion and is only based on some of my experience and my extensive arm-chair mechanics ****
re: REAR RADIATOR in a BUG. It's been tried!!...
Ok. Another person [me?] thinks he can make a rear mounted radiator work? Yes! And this is why... ;0)
In an attempt to preserve the "the look" of the front of my 67' sedan and keep it stealthly. I want to place a high performance three core, cross flow aluminum radiator (like the one at the top of this page) behind a false back seat (hollow shell). I [want to try] pulling air in via' ducks incorperated into both sides of the floor (battery tray area). Kind of upside down air scoops. But only protruding down about a inch or so (or whatever is required).
The seat, as mentioned will be false. Basically a shell made out of fiberglass and covered to look like a normal bench seat. Also incorporating the package tray. Who sits in the back seat anyways? Ok, you'll be able to sit back there but it won't be comfortable...
I'm "guessing" that the intakes on the floor will only have to be a inch or so open since they will be about a foot wide. I'm also banking on a serious air blast feeding them. The scoops (protruding parts) themselfs will be of stiff rubber just in case I happen to nail one while under motion :smile:
This air would be directed up to and behind the rear window louvers. This area [has to be] a low pressure area as compaired to the air under the car. And I know that the only thing that moves are is differential air pressures. Higher near the ground, lower below the rear window. I say that because the air rushing down the back, at speed won't be able to follow the body shape. I know it seems counter intuitive from factory. But I think the VW fan just muscles through this. And the vents are placed there just for cool, fresh air.
I bought a "differential pressure" meter, (Magnehelic® gauge) which can detect very low pressure differences between to areas (it has two ports on it). You can buy them in many different pressure ratings. They get used in measuring the benifits of air dams and rear wings. That and a large scale plastic (model) oval body. I thought I could test this theroy out. Instead of just guessing. What a idea!
Actually the whole area of the back seat and package tray will be more part of the open transaxle area than the inside of the car. This way if I head through some deap water (So Ca. limits the chance of that) it will pass it up and through the radiator and empty into the trans area. Completely isolated from the passenger compartment. I kind of wince' when I think of that... but it's really no diffierent than a front engine/rad vehicle going nose first into a water. I'm sure it would have the same effect.. a title wave no doubt.
The air under the car [should] be free flowing and of high pressure? Once the airstream hits the front of the bug and splits it really doesn't have much choice.. I would think. It's going over and under. And being that the pan is basically flat and smooth, there should be less turbulance that other cars. To test this theory I may have to take advantage of a bug with a rusted battery pan and get my hand out in the airstream at freeway speeds. That would answer a lot. Ether there will be a serious rush of air under there. Or there won't. I have been wrong before :wink:
I've planned to allow the hot exhausted air to flow UP, back and out the louvers above the deck lid (among other places). This was my biggest gripe with the front mounting. The only place (direction) for the HOT, RISING air to go was down? There seemed to be no good way to move the air naturally out. With a rear mount it should be able to exit into the transaxle area AND up and out the louvers. Basically there is no firewall. The view back from the radiator is open and unrestricted. A vert louvered deck lid would be advantagious. If it wasn't for the co$t :ohwell:
[update]
The plan now is to make the bottom intakes and upper louvers a closed path. If I don't, I won't maximize the effects of differential air pressure. The air needs to be higher at the bottom and lower at the top, with no side paths. So I get the dynamic flow I need.
EasyCFD (Computational fluid dynamics - don't let the name put you off.. I managed to squeeze some usefull data out of it and "I know less than nothing"! Ask anybody)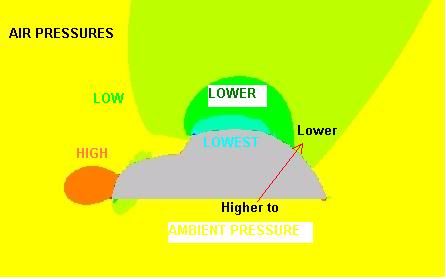 You can download a [timed] trial versioni here
Of course a electric fan on each radiator will give me the flow I need from 0 to about 35mph. Then the scoops and differential pressures will take over. Well it's confirmed, I AM A DREAMER!!
The following is just my opinion
Front Mounted Radiator
PROS:
* Up front airstream cooling. A no brainer.
* Additional cooling and capacity from water lines
* Better weight distribution
* Usually easier to accomplish and it's a proven technique
CONS:
* More resistance to waterflow. Pump works harder.
* Usually have to air dam or scoop the front end
* Difficult to exhaust the hot air out properly. Down? Ugh!
* Radiator is lower than the engine. Air pocket issues.
* Super heating your fuel tank and fuel! Been there.
* Additional water weight (8.3Lbs / gallon)
* Loss of spare tire?
Rear Mounted Radiator
PROS:
* Less restance to water flow. Shortest path possible.
* No limit to size of radiator.
* No modifcation to front of vehicle needed
* Less weight (much shorter pipes and much less water)
* Does not heat your fuel tank and fuel.
* Exhausted air naturally moves [up!] and out via' rear window louvers.
* Retains spare tire.
* Rad is generally above eng. Less air pocket issues.
CONS:
* Very difficult and intrusive to accomplish correctly.
* See previous :smile:
* More weight moved to the rear. Got oversteer?
* Loss of package tray and under seat area
* Battery needs to be moved to the front. Which ain't bad.
* Possible additional sound issues due to elec fans.
The last time I had a front mounted rad (79' vert + Mazda 13B) I was always concerned about the stock punp having to overcome ~16Ft of restrictions. By the way, I ran the cooling tubes ritght up the center. In the front the tubes exited the cover for the shift rod (between the beams). And the rear exited between the horns, lower part flat area just below the nose cone).You should try to place the rad "above" the engine instead of below. Air pockets were a constant pain (worry) when I had a front, low mounted one. Even with vents on the radiators high points. Whenever I filled or topped off the water, I would let it idle and crack a small valve on the two highest points, front and rear, until water started to flow instead of air (bubbles). It wasn't until I figured this one simple detail out that my uber HOT 13B became driveable. Being a 79' SB, I was able to lay the radiator down low where the spare sat (who needs a spare?). And the SB had factory louvers on the front skirt. However, it ran hot "until" I placed a small spoiler in front to catch or dam the air. That plus the water tube air vents made the whole system gel.
I guess there a thousand and one ways of skinning this problem. As I look at other posts I'm really impressed with how creative people are.. Things I never dreamed of. You're also able to avoid other trial and errors. So I learn form the successful and the unsuccessful.. It's all good.
Anyways... just thinking (or not) out loud. If anybody has some input i would LOVE TO HERE IT. I'm really interested in finding out what the air flow is like "under" the car at speeds. That would be the key. Without any reasonable flow... this is all HOT AIR.
Cheers!
Randy
I'm not a professional car builder but I do play one on TV..
[13 edits; Last edit by EG33 at 19:16:32 Sun May 13 2012]