Ej20T
"One of the best VW engine-swap choices, bar none"
First and foremost.. IT FITS! What a concept.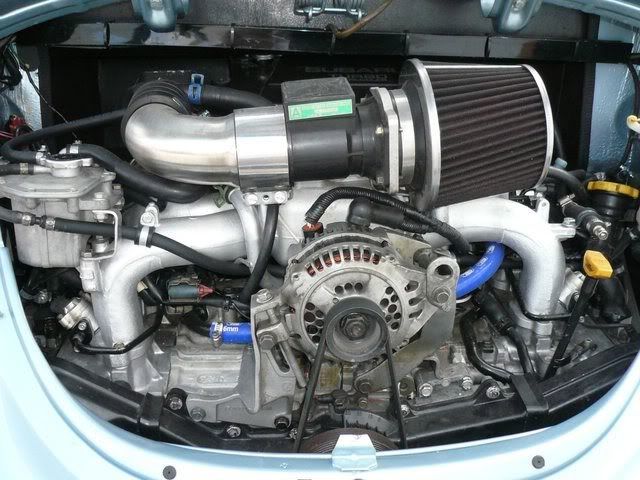 And the front of the 1303 (utilizing struts) lends itself to a front mounted radiator. Far easier than having to deal with a VW beam front end. It's like working around the great wall of China!
I did a water cooled conversion in a 79 sedan years ago.. and cut out the spare tire area, laid the radiator near flat and utilized the OEM louvers in the front skirt to feed it air.. I did ultimately need to put a small air dam (more like a small lip along the bottom to help direct the air.. but it was almost invisible, painted black). It was a quick fix.. I know another one of my big oversights was allowing the fuel tank to be exposed the radiator's hot exhaust air... this use to pre-heat my gas. Not a great performance tip. It could have been easily fixed but I just never got around to it. Speaking of that, I also didn't use a "fresh air" box for the side draft Delardo.. On warm days, those things took the edge of the engine's performance.
The 1303 (aka Super Beetle) really made for a more comfortable, smooth and quite car to drive... Luxury compared to the old school bugs. I even fell in love with that big windshield.. the dash really made the car feel roomy and quite modern. Unlike old school bugs where my knuckles would rub across the dash when making a turn.. now that's tight.
Performance wise.. That's a LOT. Not only would your 1303 be at least 500Lbs lighter than, say a STI (which I believe is about 2700). But the parasitic power loss will be much less. I understand that all-wheel-drive can consume as much as 20% of the engines power just to drive it (you don't get something for nothing). That could be power that now goes to your rear wheels..
As we know, it doesn't take much in a lightweight bug.. Like feeling the performance difference between a full tank of gas and a near empty one. Or the impact of a "passenger" or two :oO Over the years I've developed the "two fingered dyno" (no, it's not used on girls!).. Park any car on a smooth flat surface then just give it a tug to pull it forward or backward a foot or so. If it rolls with little effort, like just about any bug I've owned (with the proper tire pressure), then most of that engine's power will go to accelerating it instead of trying to overcome all the parasitic draw. If you try this with a Subaru sedan or any other car, the difference will be obvious. Tires, drive train, weight... It all adds up.. I'm always astounded that "two fingers" and a slight pull will get a bug rolling with little effort. Obviously why they can scoot pretty well even with only 36-53hp? Now don't tell anyone.. I would hate this to get out. 8o]
With my last conversion, I sure would have loved to have an extra gear or two.. Especially since it was a rotary (poor low end torque) There is only so much you can do with 4 forward gears. It's always a compromise. Wanting to launch hard and yet cruse down the highway at high speed and at a low RPM's ---- however, It would be a blast to drive no matter!
This is a MUST DO PROJECT. You don't want to go through life driving a Toyota Corolla Tercel?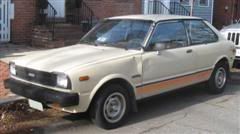 Cheers!
Randy/USA
[6 edits; Last edit by EG33 at 16:08:19 Sun Jun 3 2012]