hey i have a running buick lesabre that i was about to take to the junkyard to money for a new profect then i came across a mk2 golf that has a cadilac northstar v8 in it.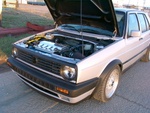 which t ome looks like v8 3800. So i was like, darn if that can fit in there then this 3800 might find a new home in one of my cabriolets.
I know it sounds farfetched but any help would be gravely be appreciated. Just to get yo uguys thinking, the person who did the northstar golf used cadillac everything,axles rotors, even the auto trans. im not to thrilled about that but if i can pull this off it would be nice lil cruise machine. I'd rather attempt to have it be manual shift though.
[1 edits; Last edit by raymondlee at 12:12:06 Fri Oct 24 2008]