Bucket Line Dredge Tailings
Russian Federation, Province of Sverdlovsk Oblast
The area near the town of Kachkanar is part of one of the first dredging fields in Russia. The majority of the dredging that occurred here was for platinum.
Just south of the town of Kachkanar along the Isa River is a large area of dredging nearly eight miles long. This picture shows row after row of rectangular dredge tailings. The river flows both along side and in between the rows, leaving many sloughs of open water across the riverbed. Notice the amount of revegetation. These tailings are from an area first dredged before 1910, over 100 years ago. The appearance (color, size, shape) of the vegetation appears to be the same as the surrounding natural forests leading me to believe that this area has equalized the land. It has taken a great amount of time, but natural reclamation has taken place.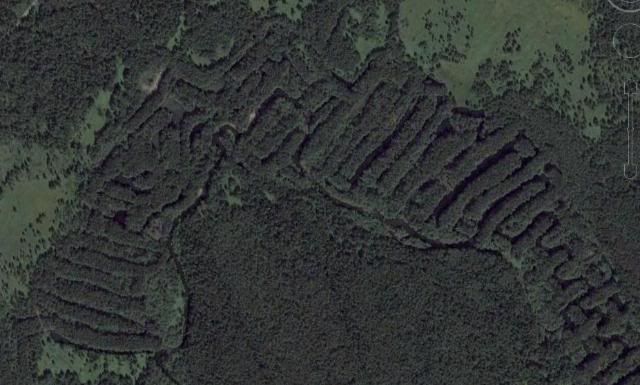 This photo, looking between one of the rows of tailings, clearly shows the size of the trees that are growing there, nearly identical to the natural forest in the center background of the picture.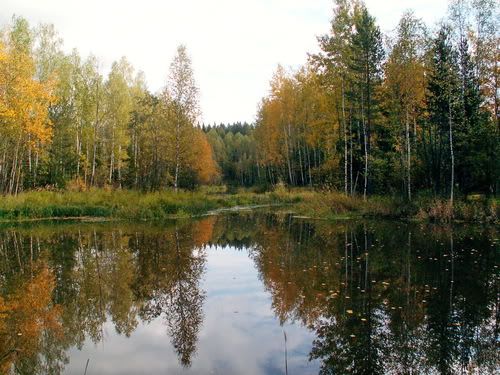 Farther along, you can see evidence of the machines that once worked the valleys.
Near the downstream end of the dredging field, the tailings rapidly disappear into a manmade reservoir of unknown purpose. In the early 1900's some dredges of the area worked in ponds with dams of up to 40 feet high. This was because of the both the high slope of the valley and it allowed them to dredge the lower benches of the river.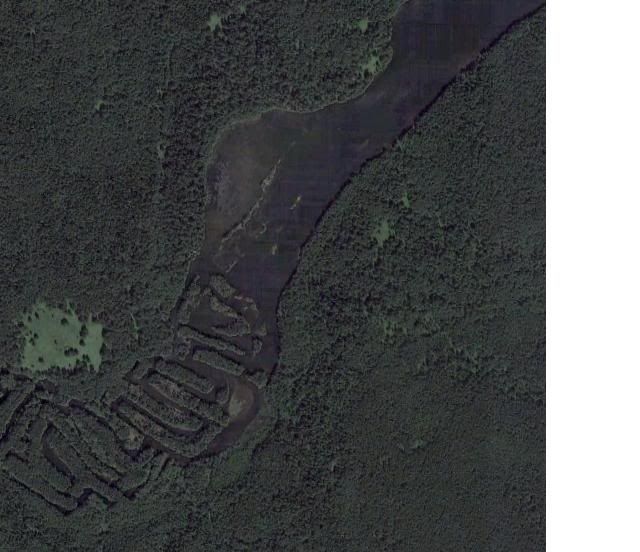 Here is another good example of natural revegetation. This is the Vyya River just north of town. There are several interesting things to note in this picture. First, the dredging area extends in a loop from the left to the right extents of the picture. Second, note the part of the city in the lower left corner. Third, the lower center area is an open pit mine. And last, from that mine, flows two channels of what appears to be overflow. A closer look shows an alluvial fan of sediments and flood type debris spread out into the valley, covering much of the dredge tailings.
A closer look here of the Vyya River dredge tailings, again showing that natural revegetation has taken place on these 100 year old mined areas.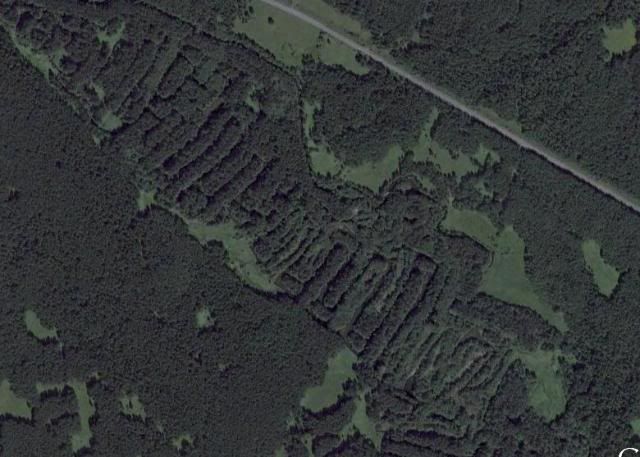 Sources
"Dredging in the Russian Empire"
The Engineering and Mining Journal
November 14, 1914
Aerial Photos from Google Earth
Other Photos from
http://www.panoramio.com/
Disclaimer
The above information is taken from aerial photography and the information I can get from area pictures. I have never stepped foot there, nor am I any kind of expert in this field. Please feel free to comment.