Good point there , eightymesh,
"a trash pump wont do that."'.
I suggest that new guys should note that "supplying enough water to run a hy-banker " can be done with a trash pump or small fire fighting pump,
Please note, this can be a excellent combo for just shoveling straight in,or slowly processing buckets of screened materials because the water volume suits this type of hy-banker recovery systems , and course to very fine gold,:smile: ,
How ever attaching a 3" suction nozzle presents problems to the above trash pump set up,
Not enough suction, so the solution is to up grade the trash pump to a more specific 3" suction nozzle motor pump,
Problem then is having a good 3' suction nozzle with good to excellent suction that moves lots of material means that there is alot more velocity and volume of water running through your hy-banker,
So what I am suggesting for the new guys is if you go for a suction nozzle especially a 3" and new high pressure/volume pump, he must be aware that you will have to " re tune ' or reset the the sluice angles and allow for allot more water to be running to your Hy-banker, Please note, we are getting good reports on Hy-banker with dredge nozzle, and I agree with eighty mesh that a 2" dredge nozzle rather then a 3" nozzle would be more suitable to Hy-banker width, ,
Another point of interest or course of " poor " pump performance is water lift , from the foot valve " up " to the inlet of the pump, My next small pump will be mounted in a sump ,and placed in the water,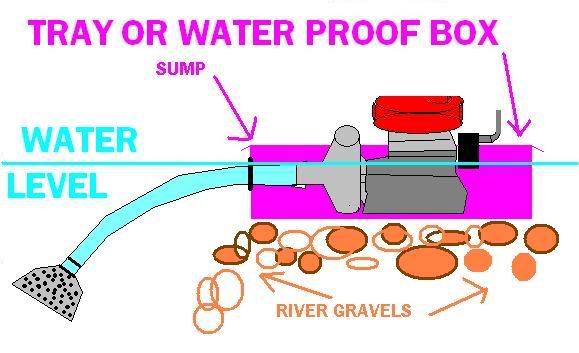 Easy self priming.??. ( just an idea, ), would need to be tied off, so it does not vibrate into deeper water,
Also please note, drawing shows ( short, extra ), extension on muffle to direct " sound " and exhaust fumes up, and not echo along river banks,
dredger,
Ps, nice gold Dan,:smile:.