Hi Baub,
We generally get 70-85% of the gold in our ore with gravity recovery by grinding to -80 mesh (our effective liberation size). Additional grinding doesn't increase recovery, as we speculate the gold is too fine. With ore from the same mine, Kinross was getting about 97% by grinding to 280 mesh and then leaching with cyanide. So yes, treating our tailings with cyanide would produce more gold, but the size reduction from -80 mesh to minus 200-300 mesh is essential to maximize recovery.
For gravity recovery, you really want the gold to have a minimum residence time in the grinding circuit to avoid overgrinding it. Here's a picture of vein gold from ore we've processed. These are the infrequent "big gold" pieces we get.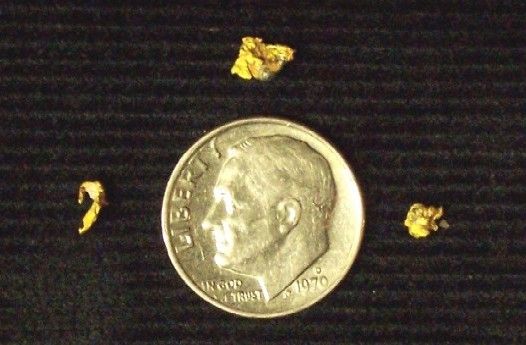 Here's the approach we've settled on for our gravity processing strategy:
1) We tune the impactor/hammer mill so the discharge is fairly coarse. There is a natural range of sizes that will exit any device, so the particles (gold or gangue) could be as large as 1/8" or more from an unscreened impactor. We don't have a screen on the impactor because any "big gold" would have to be reduced in size before it would pass the screen, and this is exactly what we want to avoid.
2) We screen the slurry after it is discharged from the impactor through a 20 mesh screen.
3) We send the +20 mesh overs from the screened slurry, including any "big gold", thru a P&S sluice to capture the gold, and recirculate the barren +20 mesh overs back to the impactor for further reduction.
4) We send the -20 mesh unders to our fine gold shaker table and get three distinct cuts: 1) gold with a bit of black sand, 2) sulfide concentrates (save for later refining) and 3) barren quartz tailings which are classified through a hydrocyclone. The +80 mesh (our effective liberation size) is sent back to the impactor for further reduction. We're successfully getting 325 mesh gold and smaller. The smaller pieces in the picture are about 400 mesh (35 microns).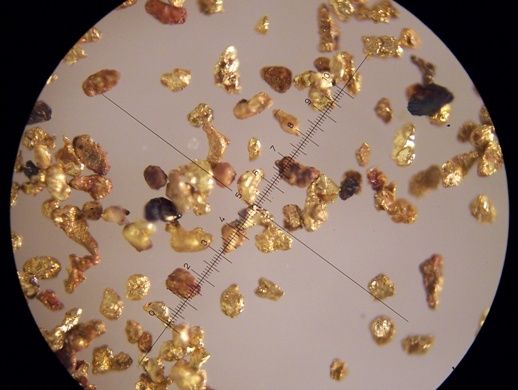 5) The -80 mesh table tailings are sent to waste, or could be leached for additional recovery. If leached, grinding to -200 to 300 mesh will improve recovery even more.
I should draw up a flow sheet for this, as I've never seen it done just this way by anyone else.
How about comments from others doing hard rock ore processing? Or just thinking about it? I know you're out there! What works and doesn't work? What have your challenges been?