Well we have our first ban as the Cars board. We got our first impound. I felt like celebrating so feel free to do your grave dancing here.
I need to find the dancing icon and put it back up. Like I said in the Villains of Cars Thread, we should unofficially call morons that come through here 'thunder mcqueen' to commemorate this and it will be our inside joke. In light of that I realized that I'm kinda getting tired of my Joker pic so I made a new ban pic with my boy Solan Rah as he blasts a rival gangster with his tommy gun.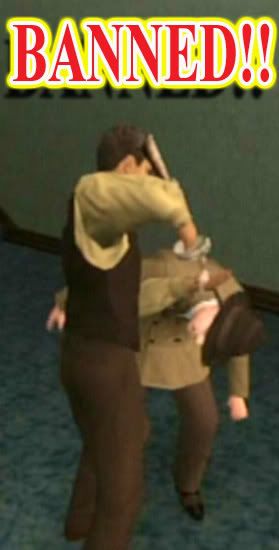 Neat huh? I should have rotated the camera so you can see Solan's face but I think the victim's face is what needs to be seen. You guys like? I love the big text of BANNED since it sounds like BANG which is what happened there.
BTW I posted some really nice pics of Solan on the Godfather thread. Please check them out.
Ok, Let the grave dancing and tomato throwing commence!

EDIT:
WOO I found the dancing icon and I uploaded it. Now we have a new emoticons. Look grave dancing!

[1 edits; Last edit by Chick_Peep_Des at 02:03:46 Thu Nov 2 2006]