Hello everyone!
We live in West Wales. In order of the hierarchy in the household:
Me - Georgina. Work from home to keep the animals in a life of luxury. Trustee for Ceredigion Animal Rescue and Education where the 2 boys came from.
Jed's mum is a (white) boxer who got out and seduced the local pointer. Jed ended up in rescue at around 6 months, was around 10 months old when he came home to live with me and will be 3 in October. He is a Pets as Therapy dog, likes Agility but his primary love (apart from me obviously!) is Flyball. Most flyball dogs are collie based so around half his size and weight but my boy just gets on with the job and loves every minute of it. Jed was born deaf.
Bo had a bit of a rough start in life. I first met him in rescue when I called in to say hello while on holiday in this area. When I bought a house here I discovered he had been rehomed but brought back as he can be a bit of a handful. Bo promptly joined our household as a playmate for Jed. Bo is a Staffie cross and can hear.Bo has recently taken up flyball like his big "brother" - he is actually faster than some of the collies, but sometimes has a habit of mugging other dogs for the ball instead of getting one of his own! Bo was officially 2 in May.

China - the one you have been waiting for! I was not looking for another dog for myself when I came across China's details on a rehoming site, and she actually looks flat and sad in the pictures, but there was just something about her! She came to live with me (her third home) the day before her second birthday in January. China is very small - same size as Bo - and she is deaf. Whereas Jed responds to signals straight away China tends to be "yes I can see you but I'm BUSY".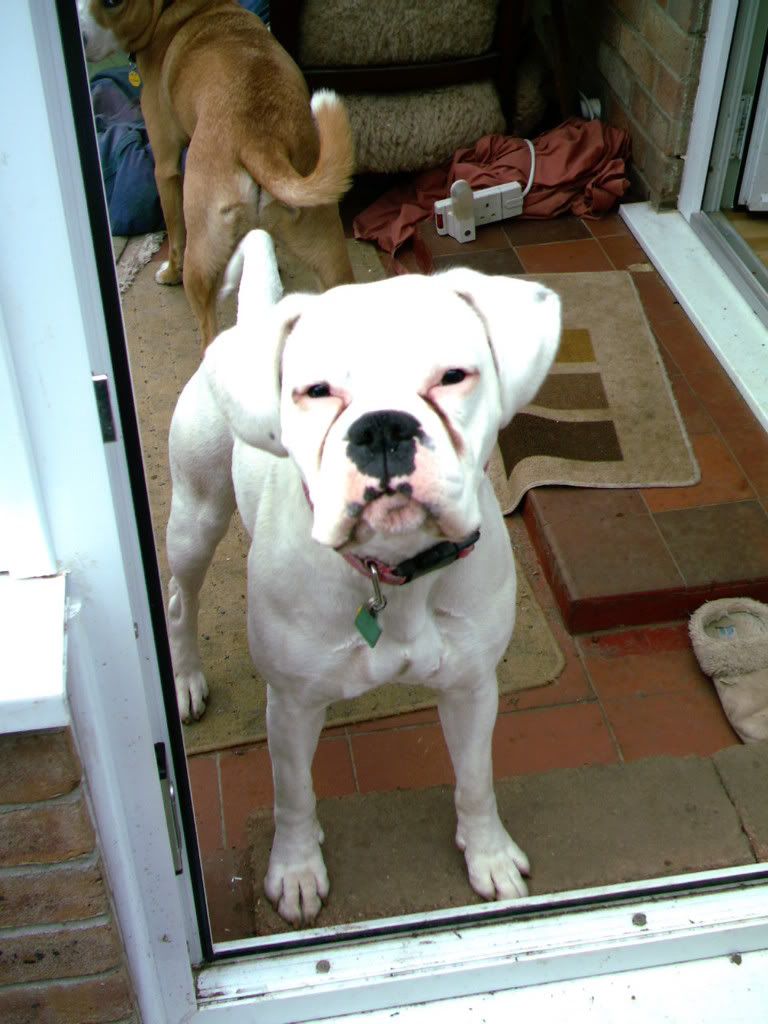 Just so you can see the sizes - this was taken when they got a friend on the floor for a vicious snogging - Jed on the left, China in the middle, Bo on the right (and poor Sophie getting slobbered on with just her leg visible)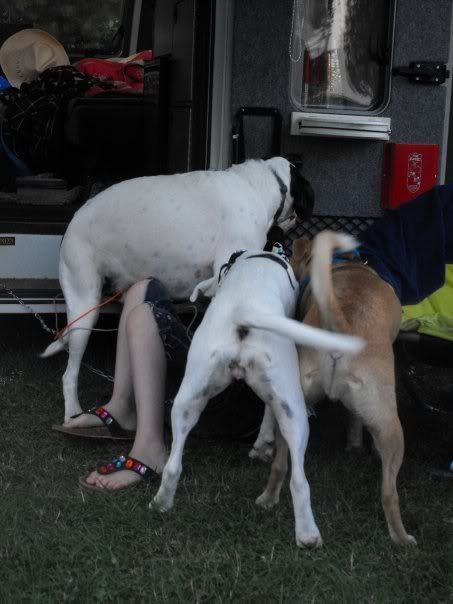 We also have 4 chickens and assorted indoor and outdoor fish.