ZOOKA: Cutter heads, huh? How do they deal with the Big Rocks problem? Or do they just go for the lower grade, smaller gravel deposits? Cutter heads were invented more for harbor silt dredging if I'm not mistaken, I never had much confidence on their efficiency in larger cobbles..
You are right on this one. However, unless the nuggets are HUGE then there is no gold lost by leaving behind a lag deposit of boulders. Sure you realise the risk then is that the lag of cobbles and boulders then forms armour-plating that a) protects the bed from more dredging, and b) protects heavy gold from being caught.
So far as I know, there is NOTHING to rival a bucket-line dredge as a mining machine! The buckets rip the rock. With my own eyes I have seen boulders as big as the bucket being raised, and - takes some believing - even an elephant (you mean Mammoth Ed). OK a mammoth Elephant (you mean a elephantine Mammoth Ed). Ahem a great big wapping Mammoth with tusks like as big as lamp-posts. (er got any pics? Ed). Yeah somewhere.
Whuur wuzzz eye....
The real advantages of cutter suction dredges over bucket line dredges are:
a) much lower capital cost,
b)lower operating cost
c) interesting one this - often a lower environmental impact.
d) easy to forget this one - the washplant is easy to put on a pontoon off the actual dredge, whereas it HAS TO BE ABOARD a bucket-line dredge (such dredges swing too much).
Two cutter suction dredges are starting mining in the floodplain later this year (downstream), one to strip off overburden followed by a second one that mines the placer.
Oh, here is a large bucket-line dredge....

Lets get a closer look...
Its the Shijir Alt North Dredge.
OK guys and gals, A QUICK QUIZ - any ideas about the red/orange stuff?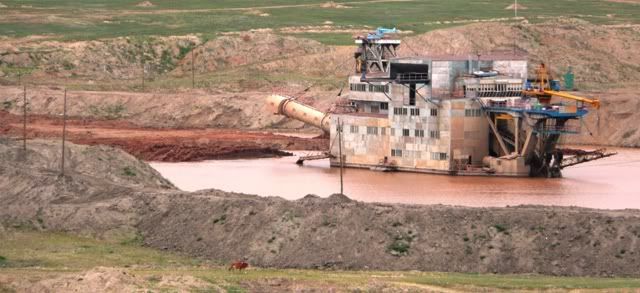 Here is some solid info about the North Dredge that I've been scribbling for our website....
The "North Dredge" of Shijjir Alt Ltd, more properly named the Alt (= Gold) Dredge is the oldest dredge in the Zaamar Goldfield. The dredge is mining the alluvial Tuul Placer and the underlying red Ulaan Placer from beneath the floodplain of the Tuul River, and beneath the lower terraces.
The dredge belongs to Shijiir Alt Ltd, and is a Russian-made Bucket-Line Dredge manufactured by IZTM in Irkutsk in Siberia. The dredge became operational in the mid-1990's after a 10-month construction and assembly period. It has a displacement of 1,500 tons, and a maximum reach (depth) of 12m although the average operating depth is usually about 7m. The dredge has 77 250-litre buckets on a chain, and a dredging design capacity of 1.2 million m3 a year. The rated capacity is 350m3 per hour, with 1,800kW of on-board power and a nominal power load of 700-800kW. Power is supplied by the electric grid. Gold recovery is by traditional Russian sluice boxes designed for continuous operation.
The normal working speed of such a dredge is 22 to 24 buckets per minute (bpm) in gravels and 18 to 20 bpm in clayey intervals such as the Ulaan Placer. The bucket volume is 250 litres (0.25 m3) and the average fill is 75%. Therefore the normal working capacity is 24 bpm x 0.25 m3 x 60 minutes x 75% = 270 m3 per hour.
The number of buckets is not important for capacity calculations and is a confusing figure. It is related to the maximum dredging depth and used to estimate dredge price and the wearing costs one can expect. Important for capacity calculations is the number of buckets per minute going over the tumbler and discharging material.
Clearing the path for the North Dredge are two large Walking Draglines that strip off the overburden: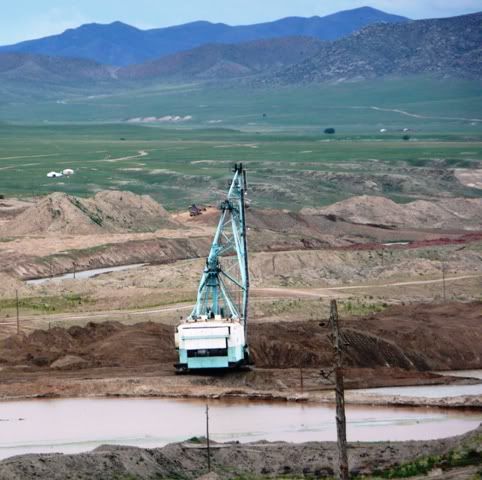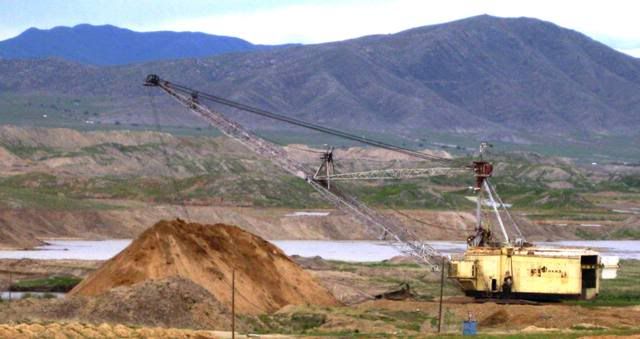 More about the tag teams of dredge+dragline later with some super pics by Bernd.
Meawhile let's push on downstream to see the large Bayangol Dredge, another bucket-line gold dredge monster mining machine...
Steppe
[5 edits; Last edit by Steppegold at 11:27:19 Mon Feb 1 2010]